The technicals point to further losses but it requires RBNZ to make that happen with a rate cut on Thursday, or simply the threat of further cuts, to avoid sending it higher.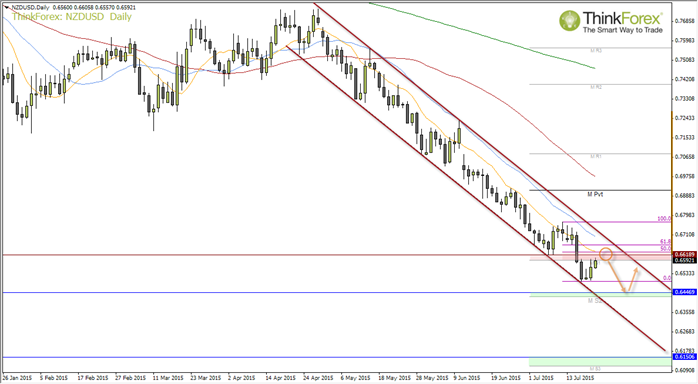 Shorting the Kiwi Dollar, against any other currency, is by no means a new idea. It has been over 13 months since NZDUSD toppled from the dizzy heights of 88c, with the latest free-fall from the April high producing the closest thing you'll get to a straight line in Forex. 

After cutting rates last month to 3.25% traders have continued to short the Kiwi Dollar as the accompanying statement strongly suggested further cuts ahead. What has also helped the decline is weaker commodity prices, increasingly weak dairy prices and the unravelling of carry trades during risk-off environments. 

Yesterday the NZ Prime Minister sent the Kiwi Dollar higher by stating "it had fallen faster than expected", but we cannot expect this to mark a significant turning point on its own. For a turning point to have occurred we need to see a weaker USD along with RBNZ holding interest rates at 3.25%. With it being a relatively light data week for the US then we can assume that domestic reasons are more likely to drive the Kiwi Dollar, which this week will be the interest rate cut, and or statement. 

Trading within a tight bearish channel and approaching the Overnight Cash Rate decision (OCR) on Thursday, failure for RBNZ to cut could finally see the Kiwi Dollar bounce higher to bring the bearish channel into question. However the issue here is that USD Index continues to grind higher which is adding further pressure onto the Kiwi Dollar. 

At current levels it has already bounced to a zone of resistance which may entice some to enter short to anticipate a cut. This may not be such as bad idea (assuming they do cut) but I will wait to see where we are closer to the event before committing. In an ideal world we could see a break higher towards the upper bearish channel to help increase potential reward / risk ratio. If however we see NZ crosses lower leading up to the announcement then, being at multi-year lows, makes this a less appetising short in what could soon be an over-crowded trade.