So far, this has been one of the more exciting and volatile July's in recent years. This time last year headlines were dominated by lack of volatility but this summer could not be any much different, with several dominant themes driving global markets.


Throughout July this year the Monday Asia session, which is usually known to be timid and uneventful, has set the tone for the week after catching investors off guard with volatile swings across the globe. Yesterday was Chinese stocks, the previous Monday saw Gold prices collapse, with prior week's openings littered with large, Greferendum-related gaps and chinese chockwaves. 

Chinese stocks were back on radar in Asia yesterday after Shanghai Composite (among others) were down over 8% during a single session. This is the 2nd largest single day loss on record after markets became concerned the Government were removing their efforts to support the stock market. The chart shows a Dead-Cat Bounce rolling over, and further losses at this stage seem likely as investors rush for the exit. 

At Europe open we saw the USD sell-off and Euro crosses well supported, which is uncharacteristic of an FOMC week where markets were expecting a Hawkish FED. At this stage I suspect traders are concerned that the Chinese sell-off may delay the FED rate hike further. At the same time, now Greece is on the back-burner, Euro crosses are proving to be resillient to surrounding news and posting multi-month highs against several majors.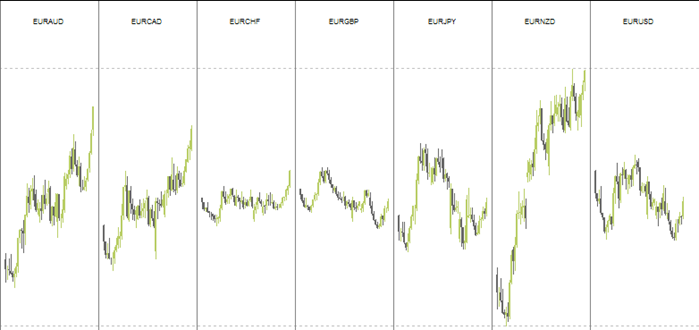 - EURAUD: 71 wk high
- EURCAD: 25wk high
- EURCHF: 21 wk high
- EURGBP: 11 wk high
- EURJPY: 12 wk high
- EURNZD: 84 wk high
- EURUSD: 11 wk high

What make Euro-cross developments of particular interest is how they contracts with COTS positioning of large speculators (who are increasingly net short as of last week). This would then suggest a large part of recent Euro rallies are from speculators short covering combined with Greenback bulls covering longs.