Overnight trading saw oil break to three week lows with a bearish pattern suggesting fresh-multi-year lows are on the cards.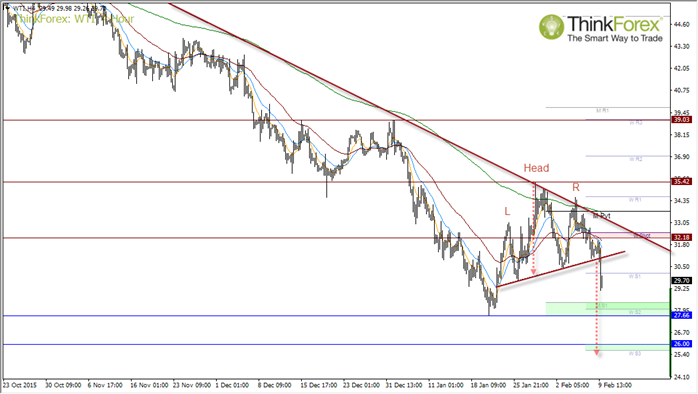 Yesterday produced a clear break of the neckline of a potential head and shoulders pattern which if successful, projects an approximate target around $25.40. The velocity of the break makes me suspect we won't see a full retracement towards the neckline, but if we do see such an event, it becomes an obvious place to consider sell setups for the anticipated downside move. As my boas is down then I view any uptick as a better price to position yourself short as long as the neckline holds.  

Had it not been for the fact that USD also sold off overnight then we may have broken below $28. But if we are to see a turnaround in the USD (which is now hanging around the lower Bollinger band) then this should help provide further downside for oil. ​

The multi-year low of $27.66 will no doubt be closely watched and likely to encourage profit taking and a bounce higher. However above here we also have the weekly s2 and monthly 21 which provides a wide support zone between $27.66 - $28.35. Whilst this area may stall the downside and create a bounce higher, as long as the neckline holds we still assume a run towards the initial $25.40 target. 





Yesterday's range was outside the typical daily range (compared to the 5, 10 and 20-day averages) but the weekly and monthly ranges suggests there could be some meat left on the bone for further downside. 

If we are to assume a weekly high-low range of $4.8 (using the 5-week average) this suggests a weekly low around $27.94. Of course suing average ranges does not make an ideal forecasting tool but it does alow us to compare apples so to speak, and basically quantify current trading range to typical ranges. With 3 tradng days left in the week we shoudl easily achieve this assumption.

If we are to asume a monthly high-low range of $8.90 then the potential low of the week may be $23.34. As this is beyond the assumed target then this stands a pretty good chance of getting hit.