Whilst the headline figure managed to scrape an 0.8% expansion, it was the investment expectations which stole the show, seeing a 19.5% drop in 2016-2017. 



Today Capex expanded by a mere 0.8% for Q4. This is a pretty dismal expansion but when you consider that Australia saw a 9.2% contraction in Q3 then all of a sudden doesn't look too bad. 

Q3 Capex data not only missed expectations but also printed its worst ever quarterly contraction on record. At -9.2% it was the fourth consecutive contraction, an occurrence which had not happened since 1990, and was also accelerating the decline. Today's expectation was for -3% contraction which would have been OK as it suggests the downside is decelerating, but the actual figure hit 0.8% which is hardly a reason to get excited. 



You can view the official figures here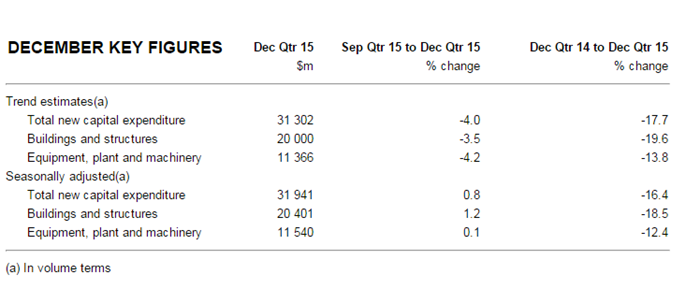 Whilst the headline number avoided another shock contraction, the main focus for analysts is on expectations of future investment. The chart above shows a pretty clear trend, and expectations of lower investment across the board. Of course the main drag will be mining, but unless Australia finds something to replace this sector (and not just soaring house prices) then growth will remain beneath its long term average for some time. This is an important point because RBA have acknowledged they expect growth to remain below trend, but we have not yet heard their views on the likelihood of this trend becoming worse. If we continue to see such weak investment then this will inevitably cause growth to weaken further and force the RBA to take action by presumably cutting rates (despite acknowledging its limited effectiveness in the current economic climate). 







The Australian Dollar weakened across the board as traders absorbed the data set. As outlined in yesterday's analysis, the Aussie is making hard work of climbing towards the 0.738 resistance zone and I see no compelling reason for it to break above here in the near-term. Today's Capex data only reaffirms this view as it provides a weaker outlook for growth in Australia.