With the USD Index shedding 3-weeks of gains within hours of Friday's NFP report then the call of a low having been seen at 91.90 is back into question. 
Recent events:
THE WEEK AHEAD: Commodity Currencies cash rate week
Japan's industrial production extends decline
Broad Euro-sentiment ticks higher - UK sends mixed signals
CHINA: Caixin and NBS PMI's continue to tell two tales
'No' camp rattles Sterling
Australian GDP the highest since 2012
ISM manufacturing expands for 3rd month
Kiwi crosses align to suggest larger pending moves
Australian Trade balance beats expectations





Gold managed to stay above the $1200 level, helped significantly by the broad USD weakness following Friday's NFP data set. US stocks remained relatively unscathed but money promptly flowed into US treasuries to send yields lower in a risk-off week. 


When you compare spot market charts to some of the COTS positioning data from last week you should notice the disparity between the two, due to the extremely volatile session across USD denominated markets in relation to the COTS report the form prior Tuesday. 

However, what can be gleaned from this disparity is the lack of adjustments made to USD positions leading up to the Nonfarm payroll report (the catalyst to the moves) to show traders were completely unprepared for such a data set to materialise. 

We note that AUD finally reverts back to net short but by no significant amount. Positive data form GDP and trade balance has also been excluded so we expect the net-long indicator to meander around the long to short threshold, unless there is a rate cut tomorrow from RBA and / or particularly dovish statement.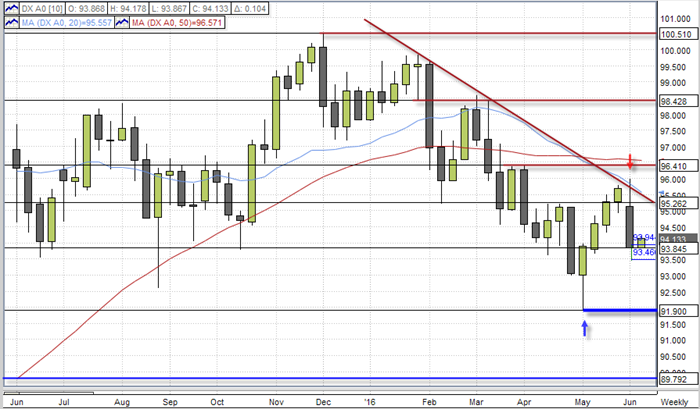 USD: A return to the 91.90 lows not out of the question
Friday's close produced a bearish outside week, suffering its heaviest losses five weeks and also completed a 3-week bearish reversal pattern - the evening star reversal.  Friday's session alone promptly shed the prior 3-week's gains and at the low of the week, having around the 50% retracement level. 

We have two trails of thought from recent price action:
- ​The intra-week break of the trendline and subsequent roll-over brings the bearish trendline back into play and the 91.90 swing lows very much back into focus. A break below here assumes and end to the 'flat correction' theory from 100.40 multi-year highs and more significant correction is underway. 
- Alternatively (assuming we were correct to call the 91.90 low) we are now within a wave-2 retracement, which are generally the least predictable as they can extend up to 99.9% of wave-1 before wave-3 forms. This can take the sting out of Friday's losses and simply mark the beginning of a complete wave-2 which is vulnerable to volatile whipsaws. 

Out of the two scenario's we prefer the latter but, ultimately the FED have to keep their hawkish rhetoric on the table despite soft employment data and for traders to reprice a FED hike over June or July. 

Either way, the near-term risks for USD remain bearish but due to a relatively quiet FX calendar for the US may experience limited moves in relation to last week's price action.





GBP: Brexit polls remain the key driver
Sterling continues to take the bulk of its directional cues from the Brexit polls, with the resurgence of 'no' votes sending the British Pound lower. GBPUSD is the only spot market among the majors to fail to capitalise upon Greenback weakness last week to highlight its own vulnerability.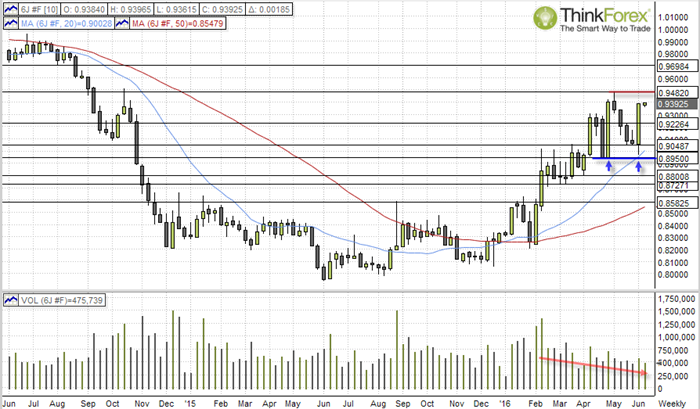 JPY: Eying break to new highs
We were watching volatility reduce as it approached 0.890 support, an important level marked by the bullish marabuzo candle low. This level has now increased with significance following the aggressively bullish outside week, with Friday's price action making up the bulk of the week's range. With JPY futures now a cat's whisker away from the 0.9482 highs we fully expect Bank of Japan to up their verbal interventions with reference to JPY futures being too high. However, we also note the declining volumes on the advancing prices so, whilst this does not help mark a bearish turning point, we still favour for current price to be corrective and for Bank of Japan to eventually get their way.