Dollar Yen rose to 121.95 from 121.50 ( 45 pips) on dollar buoyancy after Fed Chairman Yellen's testimony to congress yesterday. The yen slid lower after the BOJ minutes from Oct 6-7 where policy officials expressed concern over China's slowdown and effects on Japan.
The US Fed Chief Janet Yellen's testimony to congress revealed her confidence in the US economy. Yellen said, in current context a rate hike by the Fed in December is a live possibility. The U.S. 2 year yield rose to its highest level since 2011, trading at 0.85%.
Nikkei rose 189.50 points to 19,116.41 ( 1.00%), Topix rose 14.67 points to 1,555.10 ( 0.95%). Resistance seen at 122.00 with option expirations. 121.75 is a double top formation from 8/28. 121.77 is the 100 DMA. While the 14 DMA support is at 121.45 and resistance at 122.45. On the daily chart, there is a double top formation at 125.25. 
Market participants are staying on the sidelines ahead of the significant U.S. Employment data tomorrow. Expect the market to be range bound between 122.50 - 121.40.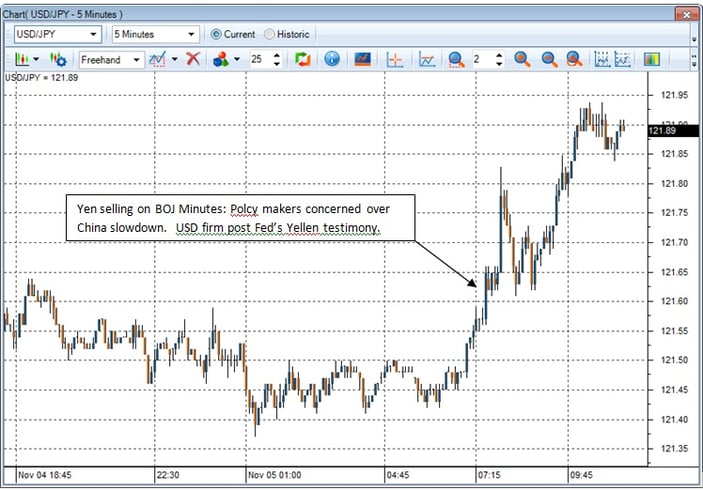 Chart: WorldWideMarkets Alpha Trader