U.S Dollar firm across the board. USDJPY edges higher to 123.60 in Europe after Friday's strong U.S. Oct. Non-Farm Payroll 271,000 versus 180,000 forecast. Fed's Evans said "Conditions could be ripe for Fed rate hike". Fed's Bullard said "Economy effectively at full employment. Issues that deterred Fed from Sept hike has largely dissapeared. Fed within 1 year of hitting inflation target."
Range narrow between Asia and Europe. High 123.60 Low 123.16. ( 44 pips). Sellers at 123.50 filled and pushed rate lower to 123.30. Traders see 123.75 as next resistance with stops if filled 124.00 target. Positive correlation with 2yr UST/JGB bond spread with Nikkei 1.96%.
The 14 day moving average chart shows a double-top formation at the levels of 124.00 and 124.25, watch for reversals. At the bottom, the 14 DMA support levels are 119.25 and 119.75.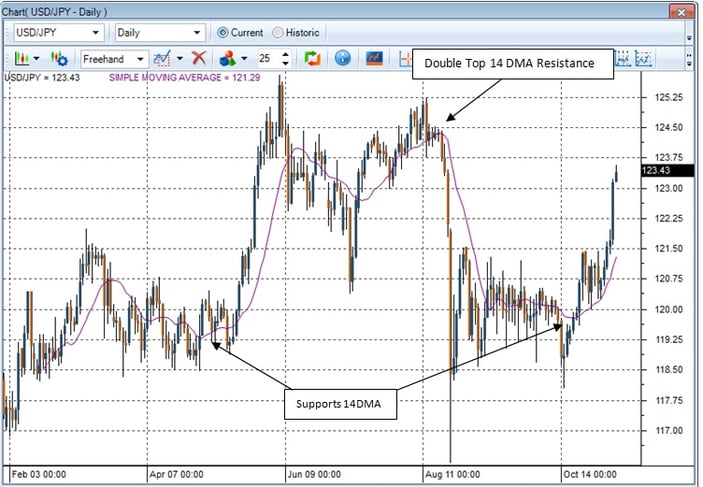 Charts: WorldWideMarkets Alpha Trader