EURUSD: The euro continued to fall steadily from the high of 1.0626 yesterday in NY with extended selling from Asia to Europe to ease down to 1.0550. (-76 pips). Analysts expect the ECB to cut their deposit rates by 10-30 basis points with the possiblity of extending QE stimulus for another 3-6 months, and/or to lower their inflation forecast. 
GBPUSD: The pound has been moving sideways on the intraday chart, quiet ahead of the ECB monetary policy announcement at 12:45 GMT. The pound made a small dip to the low of 1.4902 after trading to the high of 1.4950. The UK Services Nov Services PMI rose 55.9 versus the forecast of 55.0 and was ignored by the market as traders have stayed on the sidelines ahead of the ECB announcement.
AUDUSD: The australian dollar initially fell from 0.7298 to 0.7283 following the wider-than-expected Australian Oct Trade Deficit -A$ 3.31 billion versus the -A$ 2.61 billion forecast. (Sept -A$2.4 billion). However, there was much buying interest for the aussie since then and rebounded on steady gains to 0.7335 ( 52 pips) from Asia to Europe, on the combined corporate demand and short-covering price action.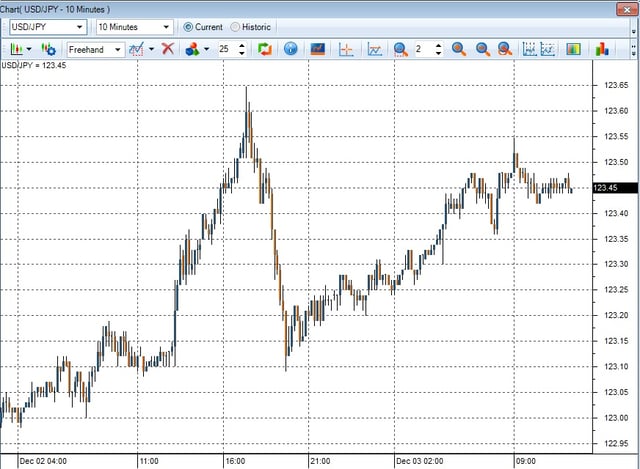 USDJPY: The US dollar has gained gound once again and made a shortcovering retracement back to 123.50 from 123.10 the low from late NY and traded in a narrow range between 123.56 and 123.38 ahead of the 12:45 GMT ECB monetary policy announcement. Offers are present at 123.50. with option expirations contracts. The price action was dictated by yield hunters as the dollar 10 year bond gain.
 Charts: WorldWideMarkets Alpha Trader