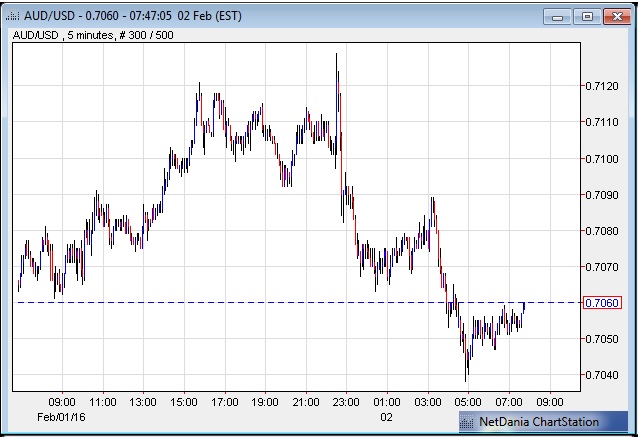 The australian dollar encountered a knee jerk reaction following the announcement of the Reserve Bank of Australia's decision to leave their key interest rate unchanged, which pushed the aussie briefly higher to the intraday high of 0.7129 from 0.7105 ( 24 pips). Although no change in the cash rate was widely expected, the RBA's accompanying statement was dovish, where the RBA officials hinted the possibilty of more easing of monetary policy measures in the near term future. AUD fell sharply to 0.7085, with extended selling in Europe to 0.7040.
The Reserve Bank of Australia kept its benchmark interest rate unchanged at 2.00%. The RBA's accompanying statement: "Over the period ahead, new information should allow the board to judge whether the recent improvment in labour market conditions is continuing and whether the recent financial turbulence portends weaker global and domestic demand. Continued low inflation may provide scope for easier policy should be appropriate to lend support to demand." (3:30 GMT)
The last time the RBA changed their interest rate was in May 5, 2015 and lowered their rate by 25 basis points to 2.00% from 2.25%. The next monetary policy meeting will take place in March 1, 2016.