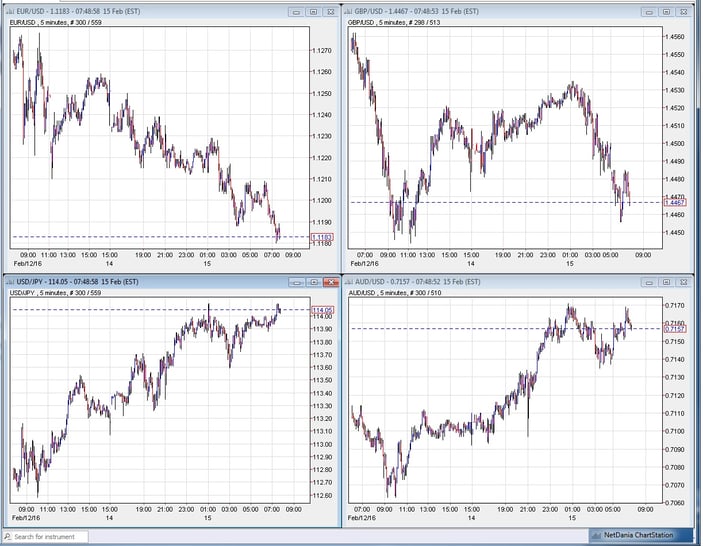 EURUSD: The euro fell steadily from the Asian high of 1.1250 and fell further in Europe from 1.1230 to 1.1188 (-42 pips) as the US dollar gains and on the news of the Bundesbank lowering their 2016 CPI forecast to 0.25% from 1.1%, and 1.75% in 2017 citing the falling oil price. The market focus today will be on ECB's Mario Draghi's testimony to the European Parliament's Economic and Monetary Affairs committee at 14:00 GMT. Analysts will be looking for hints from Draghi on justifying the need to act or adopt another wait and see attitude. Action to policy ie: further easing of monetary policy may bring with it the risk of side effects of delay to the EU inflation goal. 
GBPUSD: Sterling has given up most of the gains it made as it rose to the high of 1.4535 in Europe and was met with selling interest easing down to the low of 1.4455 (-80 pips) with the US dollar gains and while the stocks gain from Asia to Europe led by bank stocks. FTSE is 2.23% to 5,835.09. The German DAX is 3.01% to 9,237.29 as of 12:00 GMT. EURGBP rose 31 pips to 0.7745 from 0.7714.
USDJPY: The yen weakened steadily against the US dollar and rose to 114.10 from the Aisan low of 113.25 ( 85 pips) and held its gains in the 114.00 level. Japan's Prime Minister Abe repeats their defensive rhetoric, "Excessive FX volatility undesirable and ready to take steps if necessary." The market has been wary of BOJ interventions from last week and still carry the sense that the central bank is still lurching in the background to sell the yen. Thus, we have seen much USDJPY short-covering since the low of 111.00 last week. Risk-off sentiment has been the theme as clearly shown in the stock market today despite the US market holdiay. Nikkei surged 7.16% to close at 16,022.58.
AUDUSD: The australian dollar made good gains today from Asia to Europe and rose to 0.7170 after dipping to the Asian low of 0.7097 ( 73 pips) while brushing off the China's Jan Trade data which was slightly lower than expected. China's Iron & Copper imports are good. Australia's Prime Minister Turnbull is losing shine ahead of the elections. Jan. new motor vehicle sales 0.5% m/m. The Reserve Bank of Australia will release its February minutes Tuesday. Analysts will be looking for clues on the RBA easing bias, if they will translate into cutting of its cash rate anytime soon.