If you ignore food and energy, consumer inflation in the Unites States rose the most in more than four years in January, led by large increases in rental and medical costs, transportation and apparel.
Overall inflation was unchanged as falling energy expenses balanced food and other rising prices. 
The core consumer price index recorded by the Labor Department jumped 0.3 percent last month, more than forecast, for the biggest gain since August 2011. Core prices had climbed 0.2 percent in December and were forecast by economists to do the same in January. 
Last month capped af year of rising prices after the core rate touched 0.0 percent in January2015.
Prices were higher in all of the categories tracked by the Labor Department outside of food and energy. The cost of clothing rose 0.6 percent, medical care 0.5 percent and rental costs rose 0.3 percent as did the prices for new cars and trucks. 
The increase in this core measure, though it is not the Fed's preferred indicator and puts a greater emphasis on housing costs, suggests that inflation may be finally turning higher as long predicted by the Fed economists.  
The central bank's selected inflation gauge, the core personal consumption expenditure price index, is forecast to show a 0.1 percent  gain in January when it is released on February 26th.   That would be the first gain since October and only the second  since last June. 
The Fed has been predicting the return of inflation to their 2 percent target for more than two years. The latest forecast is for that to happen by the end of 2017. 
Core PCE inflation was 1.4 percent in December and is forecast to rise to 1.5 percent in January.  It has not been at the 2 percent target since April 2012.
Annual core inflation increased to 2.2 percent in January from 2.1 percent from December.  It was the highest yearly rate since June 2012.   A 2.1 percent pace had been predicted by analysts. The average rate over the past 10 years has been 1.9 percent.
On the year shelter costs were up 3.2 percent, services in general less energy rose 3.0 percent, transportation costs gained 2.7 percent and medical care costs climbed the most at 3.3 percent.  
The monthly index for all consumer prices had been expected to fall 0.1 percent in January, instead it was flat
The price index for all goods was held down by a 2.8 percent decline in the cost of energy products. The price of gasoline of all types fell 4.8 percent and fuel oil dropped 6.5 percent. Power generation was down as well, reflecting lower energy expenses.  
In the United States 67 percent of electricity is generated from fossil fuels, 39 percent from coal, 27 percent from natural gas and 1 percent from petroleum. The cost of electricity fell 0.7 percent in January and that of piped natural gas slipped 0.6 percent.  
The overall cost of food was unchanged in January but had an interesting split.  Food for home consumption fell 0.2 percent while food away from home, restaurants and take-out, rose 0.3 percent. 
Overall inflation rose 1.4 percent in the twelve months through January, slightly ahead of the 1.3 percent expectation.  The overall index has been restrained by the collapse in consumer energy expenses brought about by the more than 60 percent plunge in the cost of crude oil in the past 18 months.
Joseph Trevisani
Chief Market Strategist
WorldWideMarkets Online Trading
Charts: Bloomberg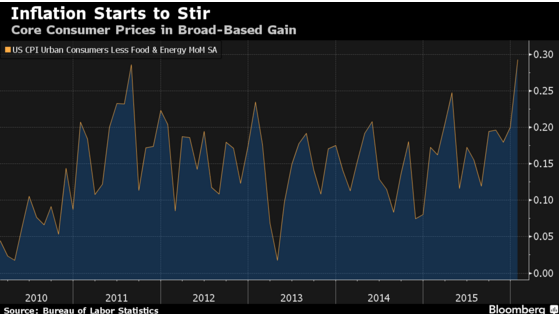 FX Street