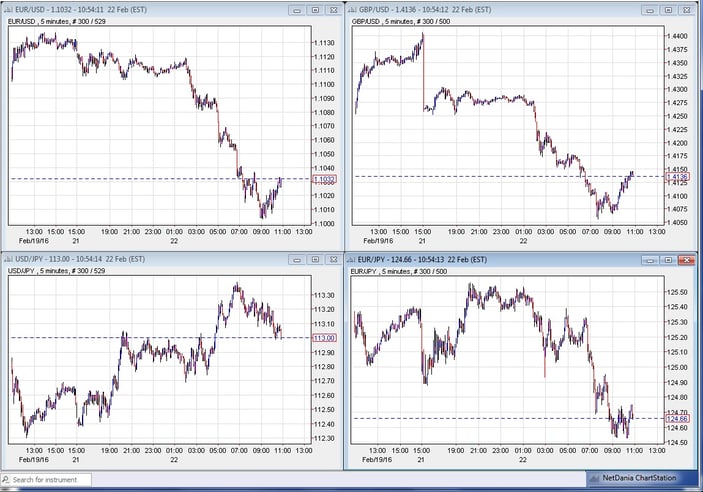 EURUSD: The euro fell steadily by 115 pips in Europe from the high of 1.1118 to the low of 1.1003 against the US dollar gains against the major currencies, with the US dollar buying on safe haven sentiment amid the uncertainty on the Brexit situation. A small rebound took the euro back to 1.1035 at 15:00 GMT. The Flash EZ manufacturing Feb PMI fell to 51.0 versus 52.0 forecast from 52.3 in Jan, adding to the bearish tone of the euro. Spreads widen between USTres bonds and German Bunds as the German DAX gains 1.75%. Several support levels have been broken on the way down: 1.1083 21-DMA. Crucial support 1.1063. The 200-DMA of 1.1049 which failed to be a pivot point. The next strong support is seen at 1.0969. German DAX is 1.94% to 9572.27 186 points.
GBPUSD: The market finally received confirmation of a UK referendum date for the UK vote to stay or leave the EU will be held on June 23. However, the London Mayor Boris Johnson announced his campaign to back on Brexit from the EU which added to the bearish tone of the british pound. GBPUSD opened lower on Monday in Sydney around 1.4265 from 1.4400 late NY Friday (-135 pips). In Europe, further selling pushed the pound lower from 1.4280 to the 11 month low of 1.4005 (-275 pips) with much volatility over the uncertainty of the referendum. FTSE on the other hand is 1.73% 102.91 points at 6,053 as of 15:20 GMT.
USDJPY: The Japanese yen weakened against the firm US dollar which rose from the 112.40 low in the prior Asian session to 113.05 ( 65 pips). BOJ Governor Kuroda reiterates that excessive risk aversion was behind persistent market rout and defends the BOJ's decision to adopt a negative interest rate policy. The Brexit referendum contributed to market uncertainty, and this time around the US dollar became the safe haven demand instead of the yen. The US dollar offers the best liquidity and a wide array of underlying asset markets. Stocks are well bid today. Nikkei closed 0.9% 143.88 pips at 16,111.05. EURJPY fell from 125.56 to 124.54 as the euro weakened.