China's economy has been the center of the turmoil that has gripped global markets since the surprise devaluatiion of the yuan in August.  
How fast is the mainland economy actually expanding? Can the Beijing government maintain sufficient economic growth so that the overextended financial sector does not have to face its huge burden of non-performing loans. 
In January the central government ordered 2.510 trillion in new yuan loans to be distributed by the country's financial sector. This followed 597.8 billion in December, the largest single and two month totals on record.
This tells us four things:
First- the Chinese government is very aware of the seriousness problem
Second- the economic planners in Beijing are willing to throw vast sums of money at the economy to keep it moving;
Third- the economic planners do not have any new ideas on how to deal with the situation other than to continue what they have been doing since the financial crisis, i.e. buying economic growth at the cost of large increases in domestic debt;
Fourth-the situation is much worse than officially admitted because despite the promise of reform Beijing feels it has no choice but to buy prosperity lest the economic problem becomes a political one.
It should be a very interesting G-20 meeting in Shanghai this week
Joseph Trevisani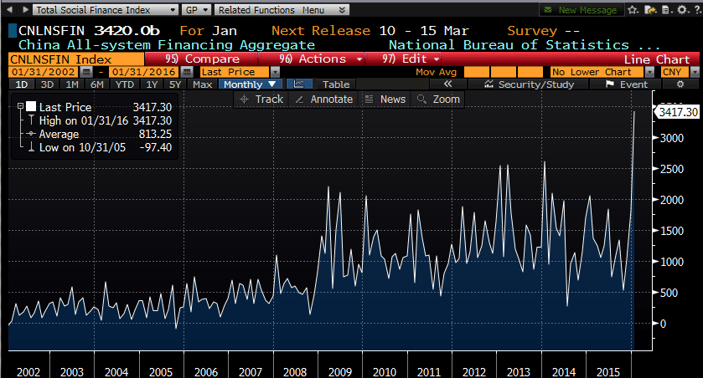 Chief Market Strategist
WorldWideMarkets Online Trading
Chart: Bloomberg