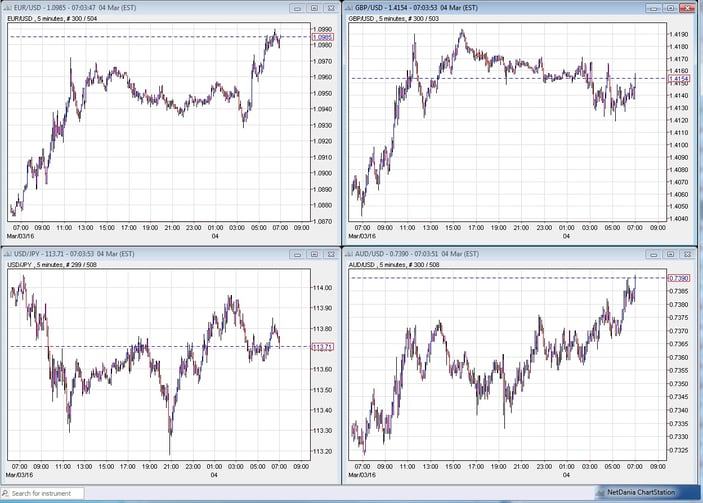 EURUSD: The euro slowly crept its way higher to 1.0990 from 1.0940 ( 50 pips) in the European session, after a narrow 20 pip range in the prior Asian session before the U.S. Feb Jobs Report. EURUSD received its buoyancy from EURGBP buying as the pound fell to 1.4120 from 1.4171 (-51 pips). Trading is rather thin and fairly subdued as participants stayed on the sidelines ahead of the U.S. Jobs report at 13:30 GMT. The Feb Non-Farm Payroll is expected to rise to 195,000 from 151,000 in Jan. The unemployment rate is expected to hold at 4.9%, while Feb wages to decrease to 0.2% from 0.5% in Jan. Resistance seen at 1.1012, 1.1025, 1.1065.
GBPUSD: Sterling eased down to 1.4120 from 1.4170 (-50 pips) against the dollar in Europe from EURGPB buying. The pound was unable to hold the gains it made to 1.4190 yesterday as profit-taking ensued ahead of the U.S. Jobs data. A healthy number would push sterling lower to perhaps the low of 1.4040 yesterday. Resistance seen at 1.4200, 1.4250. Support: 1.4040, 1.3980, 1.3950, 1.3900.
USDJPY: After the dip yesterday to 113.20, there was a quick short-covering rebound 113.70 after the BOJ Governor Kuroda said the he was thinkinkg of lowering interest rates again now, and repeats his rhetoric they will take appropriate steps without hesitation in the future if needed. Follow through buying in Europe to 113.96 as the yen weakened and bounced with Nikkei. Offers at 114.00.
AUDUSD: Risk appetite returns to the australian dollar as it rose steadily to 0.7390 after dipping to the intraday low of 0.7332, ignoring the lower than expected Australian Jan Retail Sales 0.3% m/m versus 0.4% forecast. Industrial metals advanced on optimism that China will announce plans to revive its slowing economy at the annual Congress meeting on Saturday. Trading however, thin still showed good aussie buying interest. The market awaits the all important U.S. jobs data at 13:30 GMT.