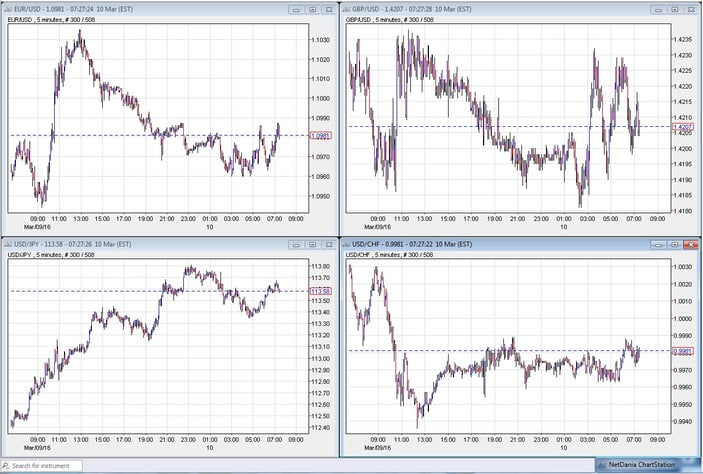 EURUSD: The euro has been confined to a narrow 26 pip trading range High 1.0986 Low 1.0960 from late Asia to the morning session in Europe as the market awaits the ECB monetary policy announcement scheduled for 12:45 GMT today. The euro bears weight with another potential round of interest rate cuts. The ECB is expected to lower their deposit rate by 10 basis points to -0.4% with no change to the refinancing rate at 0.05%. QE is expected to increase to 75 billion euros monthly from 60 billion euros. Analysts see Draghi extending QE beyond March 2017. German 2-year bunds yield -0.54%, while the spread on US Treasury notes widened to 146 from 143 basis points.
GBPUSD: The pound received a little boost and rose to the high of 1.4232 from 1.4180 ( 52 pips) from the declining EURGBP which came off 30 pips to 0.7705 from 0.7735. The pound kept some buoyancy after the strong UK manufacturing output data from yesterday.
USDJPY: The Japanese yen continues to carry a weaker tone as Japan approaches the fiscal year end and heavy JGB bond buying pushing yields lower. China's CPI data was better than expected also influenced the weaker yen. China Feb CPI 1.6% m/m versus 1.1% forecast while 2.3% y/y versus 1.9% forecast. Bank of Japan said to hold off rate cut amid unstable bond market.
USDCHF: The USDCHF rate high 0.9988 low 0.9964 ( 24 pips) has moved sideways Thursday ahead of the all important ECB monetary policy announcement. EURCHF rose 31 pips to 1.0956 from 1.0925. The Swiss National Bank meets next week.