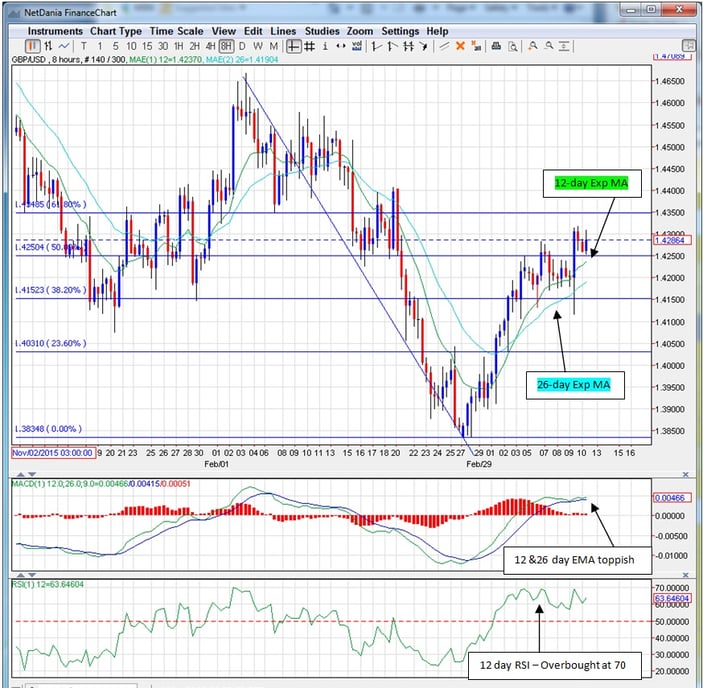 The 8 hour chart GBPUSD chart shows the high of 1.4650 Low 1.3850 with the Fibonacci retracement approaching the 1.4348 (61.80%) from the 1.3850 low from Feb 27. The pound made a strong rebound yesterday to the intraday high of 1.4315 from 1.4116 ( 199 pips) following the ECB rate cut, expanded QE and Draghi saying no further cuts in the future. Stocks surge. GBPUSD rallied to 1.4316.
The 8 hour chart shows the 1.4348 Fibo level that could be toppish. Although the 12 & 26 day exponential moving averages are pointing upward to the 1.4200 level, the MACD study shows the 12 & 26 day EMA could not cross the 0.00466 level while the histogram bars continues to decline from 0.00466. Looking at the 12-day relative strenght index, the 70 level has been reached several times indicative of an overbought RSI level. That denotes the equivalent spot level of 1.4260 as of 9:00 GMT. The immediate resistance is 1.4310 while 1.4350 is the Fibonacci retracement at 61.80%. which looks toppish and due for correction in the near term.
The 12-day EMA support is 1.4030 which coincides with the 23.60% Fibo retracement, while the 26-day EMA support lies at 1.3950. The 5-minute intraday chart shows a sideways movement 1.4315 - 1.4255 as the week draws to a close. The yen weakened when China's PBOC raised the USDCNY fixing to 6.4905 which pushed GBPJPY to the high of 162.88 from 161.00, which gave the GBPUSD added buoyancy and held firm above the 1.4250 level. FTSE 104 points to 6141.56 1.74% at 14:00 GMT.