After yesterday's less than enthusiastic response to the European Central Bank's massive stimulus package, markets seem to have decided that when it comes to central bank policy petulance has no place. 
Equities rose around the world, crude oil ran to its highest level in three months and the euro reversed its losses climbing to within points of yesterday's almost four figure top.
Only the credit markets were relatively undemonstrative. Though rising U.S. yields indicate that spillover from the European bond buying program which is intended to force continental rates lower is unlikely.
The Dow, S&P 500 and the Nasdaq  were 1.28 percent, 1.68 percent and 1.85 percent higher at the close in New York, having opened strongly and improved their averages throughout most of the session.
In Asia the gains were more modest with the Nikkei up 0.51 percent and the Topix ahead 0.53 percent. Hong Kong's Hang Seng Index gained 1.08 percent to lead the major Asian exchanges. In China the Shanghai Composite rose marginally at 0.2 percent, likewise the Korean Kospi at 0.11 percent. Among the biggest exchanges only the Shenzhen Composite in China lost ground dropping 0.22 percent.
Investment funds are the most fungible assets in the global financial system. Liquidity flowing out of the ECB in Frankfurt will naturally find its way around the world, supporting stock markets from Paris to New York, Tokyo and Shanghai. 
In the U.S. yields on the 2-year and 10-year generic Treasuries closed three and five basis points higher at 0.9514 percent and 1.9786 percent respectively.
European rates were generally lower.  The yield on the generic German 10-year Bund was  fractionally lower at 0.271 percent while the 2-year was down one basis point at -0.466 percent at 12:32 Pm EST.  Spanish, Italian Portuguese and French 10-year yields slipped. The British 10-year Gilt yields rose 3 basis points to 1.575 percent. 
The prices for a barrel of West Texas Intermediate, the American oil benchmark and Brent, its European counterpart, jumped.  WTI reached $39.02, its highest since last December 7th and closed at $38.55. Brent touched $41.03, not quite equal to Wednesday's $41.48, which was a three month high finishng at $40.47. West Texas has gained 48 percent since touching $26.05 on February 11th. Brent has soared 49 percent since its low at $27.10 on January 20th. Copper rose 0.72 percent and natural gas gained 1.23 percent.
The Bloomberg commodities index was marginally higher in the New York session but it also has witnessed the global recovery in resource materials having risen 10.5 percent from its January 20th bottom. 
The euro remained tilted toward the upside but little changed from yesterday's 1.1177 close, concluding Friday's trading at 1.1152.
Following yesterday's ECB announcement the euro initially lost almost two figures from Wednesday's 1.1000 close, plunging to 1.0821 within 30 minutes, before Mario Draghi's news conference comment that the central bank was  probably finished with further stimulus sent the united currency soaring,  398 points from bottom to top, touching 1.1219, its best level versus the dollar since February 15.
The euro has retained the majority of Thursdays gain in today's trading, with today's intraday low of 1.1080 more than two figures above yesterday's perigee and he clsose within 50 points of the top.
Joseph Trevisani
Chief Market Strategist
WorldWideMarkets Online Trading
Charts: Bloomberg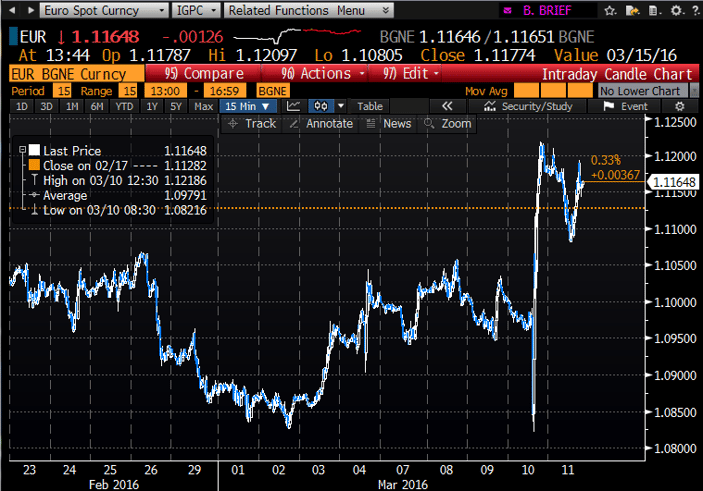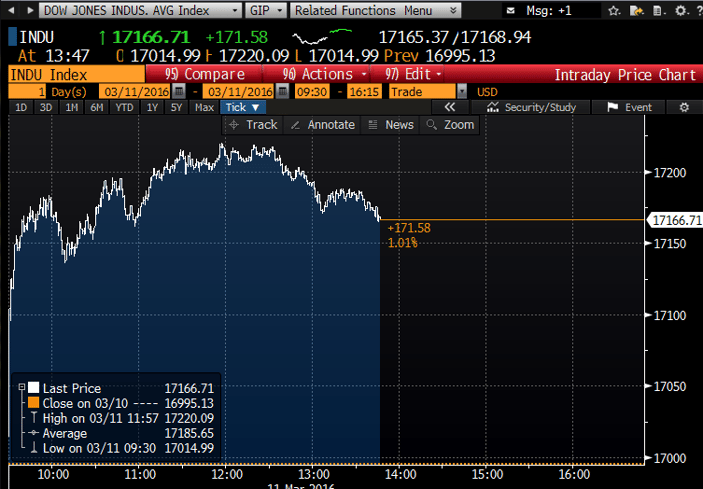 .