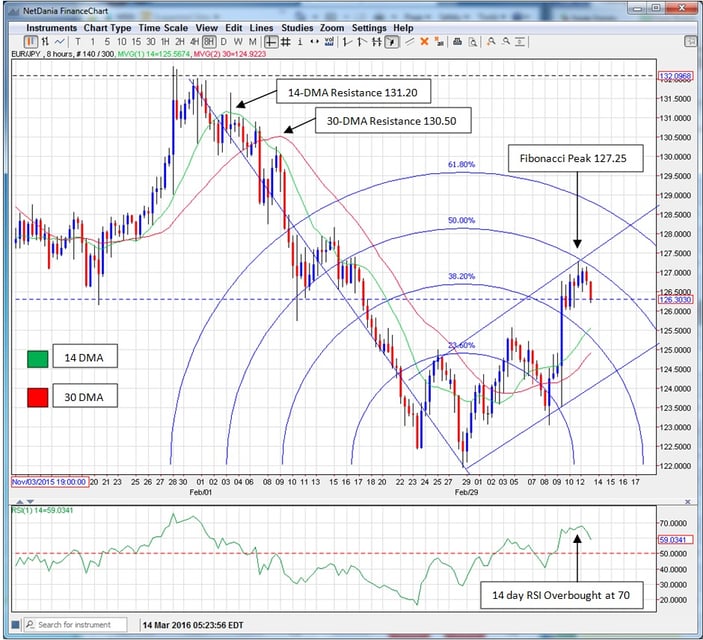 The 8-hour chart shows a good 50% fibonacci fan retracement of EURJPY from the low of 122.00 (Feb 29) to the 127.25 high from Friday Mar 11 which also proves to be the Fibonacci peak and resistance. Monday's high in Asia was 127.15 and that is a decending double top formation on the intraday 5-minute chart below. The 127.15-25 level proved to be unsustainable and was met with profit-taking to 126.20 in Europe which is almost a repetition of Friday's low of 126.15 on the 5-minute chart.
There is a channel formation on the 8-hour chart frunning from 125.00 to 128.50 from the top line while the bottom line runs from 122.00 to 125.25. The 14-DMA line appears to show a modest rebound to 125.50 while the 30-DMA is at 124.95.
14-DMA Resistance Levels: 131.20, 127.60, 127.80, 127.25, 127.10, 126.80
30-DMA Support Levels: 126.25, 124.75, 124.50, 123.50
The 14 day Relative Strenght Index overbought level is 70. The RSI shed its gains and  it is currently at 59.03 . If the euro weakens further against the yen in the near term, the RSI 50 level is equivalent to the spot level of 123.00-123.50.