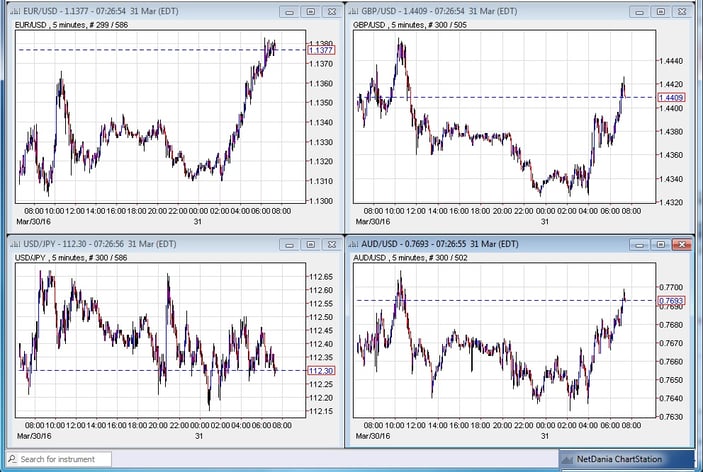 EURUSD: (Mar 31 Thursday) The euro rallies from 1.1310 to 1.1383 ( 73 pips) well bid, as the dollar fell once again in Europe from Fed official Evans who reinforced Yellen's dovish message.. Eurozone March inflation fell to -0.1% as expected from -0.2% in Feb. The March core inflation rose 1.0% from 0.8% in Feb. The inflation data has not reached the ECB's target of 2% since 2013. A moderate economic recovery has not been enough to counter the effects of declining oil prices. This Friday, the ECB is expected to raise its monthly bond purchases to 80 billion euros from 60 bio as per Draghi's new measures to promote growth. This will include lowering negative interest rates deeper on deposits. European stocks are lower as oil and metal prices fell.  German Dax -0.56%, Euro Stoxx -1.12% as of 10:30 GMT.
GBPUSD: The pound showed a good rebound from the intraday low of 1.4325to 1.4420  ( 80 pips) which benefited from the final revision of the 4th QTR UK GDP which rose to 0.6% versus 0.5%. (forecast 0.5%) and against the falling US dollar. Brexit is still a concern which was evident from the pound falling yesterday from the high of 1.4458 to 1.4360 in NY. EURGBP also gave support to the GBPUSD.
USDJPY: BOJ Kuroda said they will continue QE with negative rates as long as it is needed which pushed USDJPY from 112.25 to 112.65 in the prior Asian session. However, the weaker US dollar has prevailed and kept the range at a narrow pace on the chart 112.50 - 112.15. Nikkei closed lower -0.71% to 16,758.67. The month-end flows also limits the movement as the market awaits the US Jobs data tomorrow.
AUDUSD: The australian dollar rose to 0.7700 from the intraday low of 0.7633 ( 67 pips) as the US dollar fell across the board and round of month-end short-covering. London copper falls 1% to a 4 week low, while the price of WTI crude oil rebounds to 38.25 from 37.55. The RBA will meet next week on April 5, analysts talk about a possible 25 basis point rate cut. The RBA's current rate stands at 2.00% since May 5 2015. The S&P revised China's outlook to negative from stable which was shrugged off by the aussie and remained bid in Europe.