American manufacturing is mired in a slow growth slump while the factory sectors in the world's second and third largest economies, China and Japan, slipped further into contraction. 
The Institute for Supply Management's purchasing managers index rose to 51.3 in May from 50.8 in April. This is the second highest it has been since December's post-recession low at 48.0. The index was 51.8 in March.  The measure saw its most recent peak at 58.1 almost two years ago in August 2014. The median forecast was for a reading of 50.3.
However, a separate purchasing managers index from Markit Economics of London dropped to 50.7 in May from 50.8 in April, for the for the lowest reading in the three years of the survey, This index has been declining since reaching 57.9 in August 2014.
China, the globe's second largest economy by GDP, also had different results from its two major surveys.
The official purchasing managers' index from the China Federation of Logistics and Purchasing was unchanged at 50.1 in May.  This is the third month in a row above 50 after seven months in contraction to February this year.  
But the Caixin China PMI from Markit Economics slipped to 49.2 in May from 49.4 the prior month.  This survey has been far more pessimistic about the state of the mainland factory sector. According to its information the factory sector has been in contraction for 15 straight months since February 2015 and reached a low of 47.2 last September. 
In Japan the Nikkei Japan manufacturing PMI from Markit Economics sank to 47.7 in May from 48.2 in April. This series has fallen steeply in the last five months after touching a 22 month high of 52.6 in November and December. 
U.S. factories have been hurt by a strong dollar which has made American manufactured goods relatively more expensive for foreign buyers and a deep and prolonged drop in oil field and related machinery purchases as the price of crude collapsed from over $100 a barrel in mid-2014 to $26.21 in February of this year. It has since almost doubled to around $49.00. 
Factories in the US and overseas have also been affected by the worldwide decline in economic growth.
In the U.S. GDP has slowed to just 1.1 percent annually in the last two quarters.
In Japan the economy skirted its fourth recession in six years as growth returned to 0.4 percent in the first quarter after contracting the same amount in the final three months of 2015.  
Chinese economic growth was reported by the government at 6.7 percent annualized in the first quarter down from 2015's 6.9 percent average and the lowest annual rate since the financial crisis of 2008 and 2009.  Many economists consider these official figures overstated, with private estimates ranging from 4.0 percent to 6.5 percent. 
In the U.S. the components of the ISM survey were mixed. Production and business activity slipped to 52.6 from 54.2 for the weakest reading this year.  New orders were essentially unchanged, dropping 0.1 to 55.7. Orders have been volatile for the past year, falling to 48.8 in November the lowest in three years, and then zooming up to 58.3 in March just three months later.  
Employment continued to disappoint, with the index stationary at 49.2 in May, indicating that firms are still trimming workers.  In this survey manufacturing employment has been shrinking for six straight months.  
The gauge of inventories dropped to 45.0 in May from 45.5, hinting that factories are having some success in reducing the backlog of unsold goods.  Supplier deliveries climbed to 54.1 in May from 49.1.  A rising index indicates slower deliveries generally meaning greater demand. 
Export orders held at 52.5 in May the third month of expansion. The drag from the dollar may be dissipating with the greenback's recent fall. Export orders had declined in eight of the prior nine months to March.   Price pressures are also rising with the index of prices paid jumping to 63.5 the highest level since June 2011, from April's 59.0.
Joseph Trevisani
Chief Market Strategist
WorldWideMarkets Online Trading
Charts: Bloomberg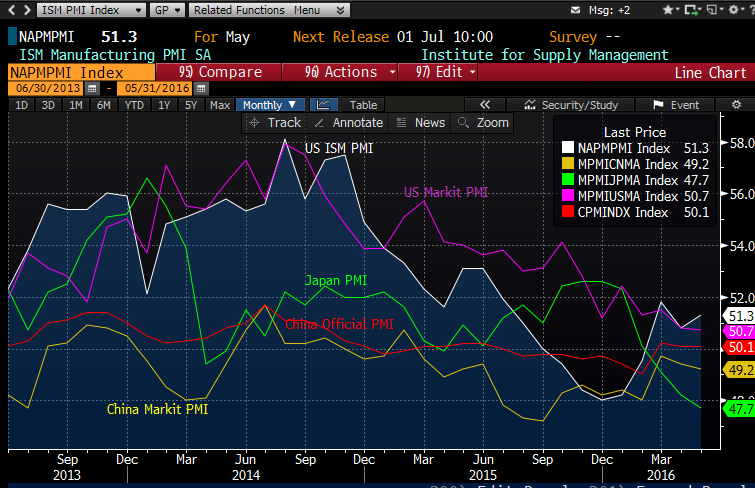 Both surveys follow similar methodology and generally categorize reading above 50 as expansionary and below contractionary.