Australian 1Q GDP was out at night. It was up 1.1% QoQ, with the previous reading at 0.7% (revised up from 0.6). The consensus for this number was 0.8%, but after the better than expected net exports data and growing inventories in this period the market felt that the reading may top this figure.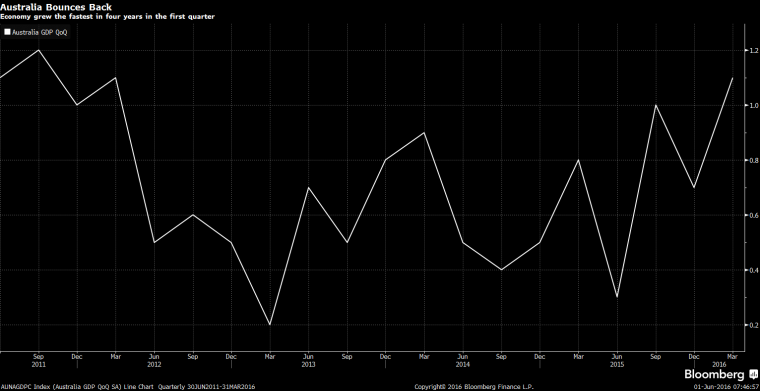 Source: Bloomberg
The YoY growth was 3,1% (consensus was 2,8%), but the 4Q result was lowered from 3 to 2.9%.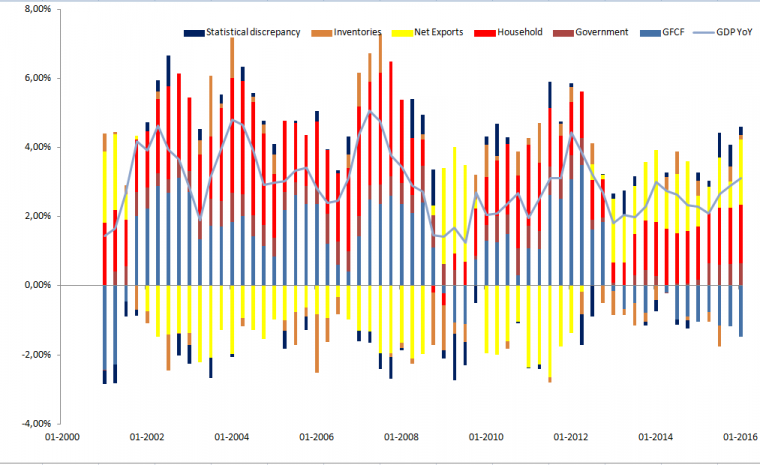 Source: Macrobond, XTB
Net exports proved to be the driver of growth, going up 4,4% and adding 1,0 pp to the GDP print.  Households contributed to growth with their consumption expenditures to the tune of 0,7 pp.
A rebound in commodity prices in 1Q was helping the economy, while the labour market reached the lowest unemploymnet rate in 2.5 years.
The chances of another rate cut from RBA (the previous one cut markets by surprise) are now thin, just about 7% implied from the money market rates vs. 11-15% in previous weeks and 27% in the middle of May. RBA meets on 7-June.
The release of the net exports component yesterday made AUD the strongest G-10 currency. Today it is already up 0.36% vs. USD, and is second strongest following the yen. 
Any person acting on this information does so entirely at their own risk. Any research provided does not have regard to the specific investment objectives, financial situation and needs of any specific person who may receive it.