Japanses PM Shinzo Abe announced today that the sales tax hike originally scheduled for spring 2017 will be delayed by 2.5 years (to late 2019). He also said there will be additional efforts to improve growth in the forms of structural reforms and some fiscal push. 
This is why we observe a sharp decline of USDJPY today, belowe 110. The Japanese currency is already up 0.7% vs. USD. but this only reverses the last wave of weakening. and brings the pair back to Friday morning levels.
Nikkei 225 saw large losses (1,85%) after the news on the postponement of the tax.
If Abenomics is going to move forward (more of fiscal stimulus) then BoJ may be on the sidelines for now, not coming out with additional monetary easing. And this is a reason for the yen to move stronger. But it is also true that the losses from previous days were caused by rumours on the tax delay, so the move now is partially caused by 'selling the facts'.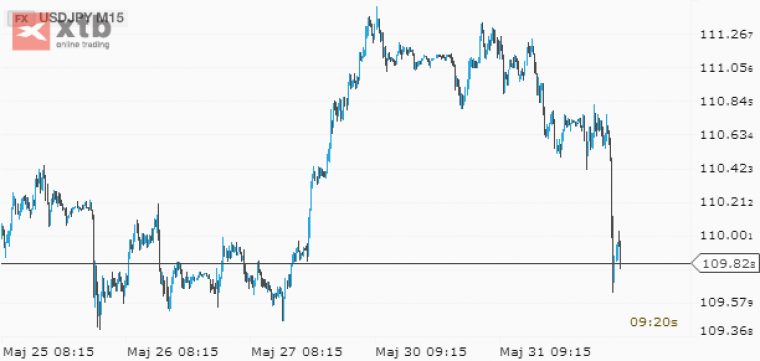 Any person acting on this information does so entirely at their own risk. Any research provided does not have regard to the specific investment objectives, financial situation and needs of any specific person who may receive it.