Today members of OPEC - the organisation that controls more of the world's oil production than anyone else - convene in Vienna for their bi-annual meeting. Top of the agenda will be discussions surrounding a possible implementation of a production ceiling which was scrapped last December due to it's significance being greatly diminished by the fact that the group's production far exceeded it.  
The rather arbitrary 30 million barrels per day had been consistently breached for more than a year and the failure to agree on a new higher limit led to it being scrapped all together. Since then Oil prices have dropped further but recovered well since printing a 13-year low in January. The remarkable rise, which present is more than 80%, was attributed by some to hopes of OPEC coordination with respect to output limits.
Expectations were elevated heading into the Doha meeting in April and the failure to reach an agreement saw oil prices open sharply lower by around 6% the following day. However, of greater importance than the initial decline was the subsequent reaction with the market recovering those losses the very same day and continuing higher ever since. This is telling in that it now becomes apparent the underlying strength in the rally wasn't contingent on a deal in Doha.
That brings us to today's meeting with Brent Oil residing within a couple of bucks of the yearly high and whilst parallels to the Doha meeting are easily drawn, the situation is quite different. Firstly expectations are far lower now with members more hopeful than expectant of a deal. In addition the market will be open when any announcement comes, meaning we won't see the huge gap down like we did last time due to the Doha meeting occurring on a Sunday.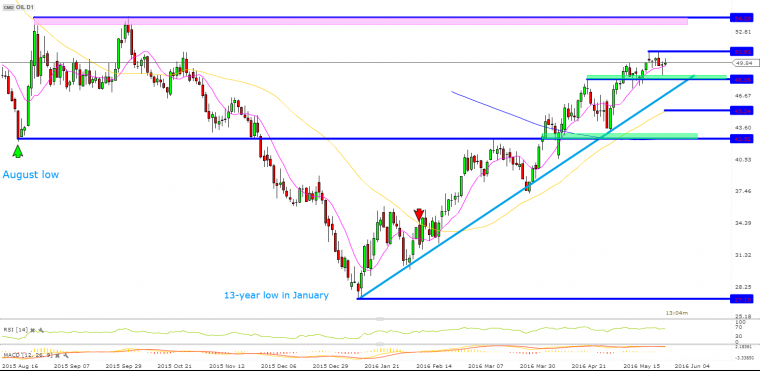 There's been some rumours over the past couple of days that an agreement can be reached and if one is then it should add a further boost to an already bullish market. Perhaps more importantly though, the absence of heightened expectations - and the recent strength in their absence - suggests that a failure to agree on a deal wouldn't necessarily trigger a sharp sell-off and a pullback in the event of this may provide a good opportunity to enter long positions. Until there's a clear break of the uptrend from January's lows and the price remains above the 50 and 200 day SMA (yellow and blue line) then the Bulls retain the upper hand. 
Any person acting on this information does so entirely at their own risk. Any research provided does not have regard to the specific investment objectives, financial situation and needs of any specific person who may receive it.