The most important relaease during the Asian session was the Melbourne Institute experimental inflation gauge. This is usually not a prime, market moving release, but as the official data come only once a quarter and the recent one proved to be the key trigger for significant AUD losses any higher frequency data are quite valuable right now. Especially that RBA meets overnight/tomorrow morning. 
This measure of inflation showed -0,2% MoM in May following 0.1% in April. In YoY terms the CPI estimate is down to 1%, from 1.5% in APril and 2.4% in February (the recent top).
The correlation with offical data seems quite strong, but as for the recent performance - the chart below suggests that the measure was overreacting and sending false signals (more less correct when it comes to the direction of changes, but not in terms of the strength of changes).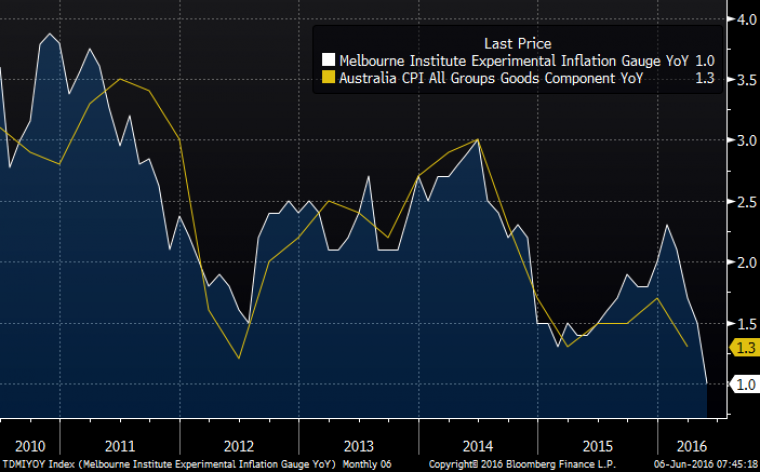 Source: Bloomberg
This is the lowest print YoY evere recorded by the Institute. The initial reaction of AUDUSD was worth some -20 pips, so not much compared to the US NFP reaction, and the pair is not giving up on its recent upward trend (which started in the last days of May).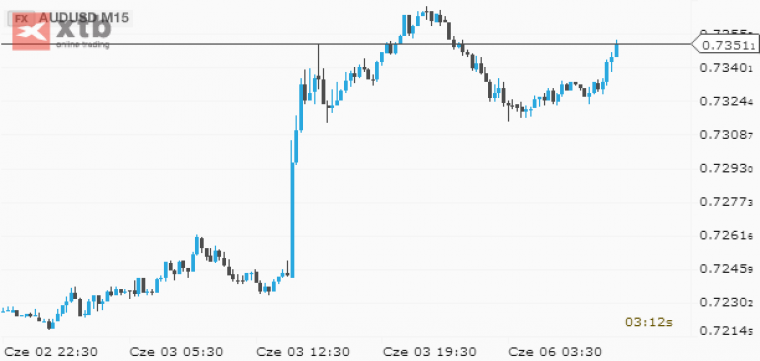 Any person acting on this information does so entirely at their own risk. Any research provided does not have regard to the specific investment objectives, financial situation and needs of any specific person who may receive it.