RBNZ did what the consensus expected, that is nothing. The main rate is still 2,25%. 
There could be further easing on one of the next meetings, but hot real estate market threatening the financial stability, is an important obstacle. The bank indicated that NZD went above it fair value (strongest in a year), but the reference to fx being just a statement of facts sounds different than before, when depreciation was 'required' to see a better CPI outlook. 
It was said that NZD may delay a rebound in CPI, but later on Wheeler commented, that the target 1-3% range could be reached earlier than shown by the projections (quite hawkish). And CPI is to reach the target of 2,0% in Q4 2017, so sooner than the 1Q 2018 in the March projection.
Wheeler stressed that better CPI data will give him the advantage of waiting with additional easing, exactly what is needed to get a better feeling of the risks of the housing boom and its influence on other household purchases. He is aware this relatively more hawkish approach of RBNZ most likely means a stronger NZD which goes against his expectations of a quicker rebound. 
Wheeler also referred to inflation expectations: longterm ones are well anchored in his view, while the shortterm ones are stabilizing. He may be to optimistic about this, actually, see the chart below.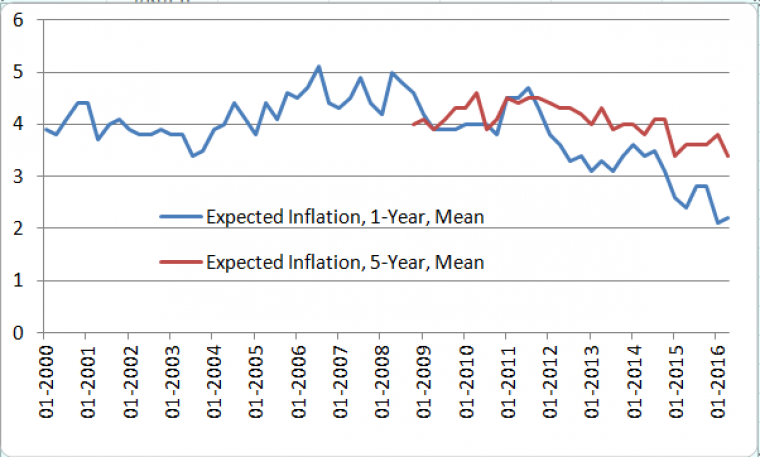 Source: Macrobond, XTB
GDP projection went up for the 1Q 2017 (from 3 to 3.4%).
No wonder kiwi skyrocketed after such a conference ( 1.77% vs USD since the day started). After all, it was not only about rates being unchanged.   
Any person acting on this information does so entirely at their own risk. Any research provided does not have regard to the specific investment objectives, financial situation and needs of any specific person who may receive it.