Bank of Japan maintained current monetary policy, abstaining from adding any monetary stimulus which caused huge gains on the yen. Japan's currency has gained against all major currencies after BoJ members said that they prefer to wait and continue to measure an economic impact of their latest cut of interest rate to negative territory and ahead of election in the upper chamber next month. Here is headlines from BoJ's statement:
The Bank keeps monetary policy unchanged, maintaining 80 trln yen monetary base annual rise and -0,1% interest rate in line with expectations
Vote on monetary base was 8 to 1
Vote on maintaining negative interest rate was 7 to 2
Kiuchi opposed decision on monetary base target, he proposed 45 trln yen annual rise in monetary base
BoJ revised its view on inflation downward, saying that CPI likely to be slightly negative or about 0% for time being
BoJ raises its view on public works investment, housing investment
The yen is the strongest currency on the market gaining 1,80% against the US dollar. USDJPY has broken 105,00 for the first time since September 2014.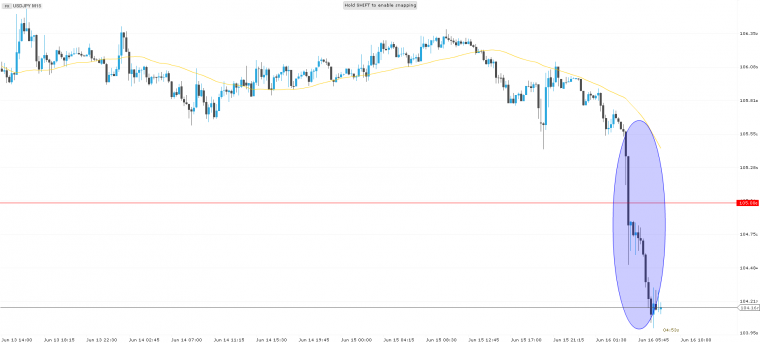 Any person acting on this information does so entirely at their own risk. Any research provided does not have regard to the specific investment objectives, financial situation and needs of any specific person who may receive it.