Last Thursday the markets were close to panicking due to the growing risk of Brexit. But the tragic death of Jo Cox happened at the same time the markets had a second thought on the future of the UK in the EU. The last set of polls confirms it was not an unreasonable behavior.
This seems natural that faced with high uncertainty many of the voters that still have not made up their minds eventually will opt for the safer, no-change option.
Catching the exact moment when this phenomenon will appear in the polls is difficult, but we can probably assume that the weekend results are the first sign of this happening.
The change of attitude is also clear when seen through the odds at bookmakers. The implied probability of Brexit has fallen from the record high 42% last week to the current 29%. (red line below represents the bookmaker quotes-based probability of Brexit)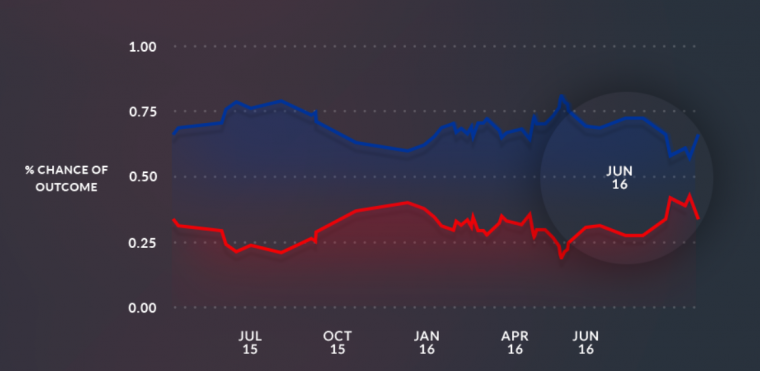 Source: Ladbrokes
Well, maybe it will not be a one-way road now and maybe there are still some big shifts on the markets before us we feel it is the right moment to enter some 'remain' trades.
The obvious market is the GBP and the stock indices, be our attention goes to alternative trades, maybe less crowded and less obvious for the market, like:
long Platinum - short Gold
short EURSEK or short CHFSEK (made of EURSEK short and EURCHF long)
More coverage of this in our tomorrow's Brexit.report.
Any person acting on this information does so entirely at their own risk. Any research provided does not have regard to the specific investment objectives, financial situation and needs of any specific person who may receive it.