NZDUSD is up 0.93% today thanks to the wave of positive mood on the global markets after the weekend Brexit polls. This sentiment is somewhat challenged with EURUSD 30pips lower than the top 2.5 hrs ago, but it does not seem that the Friday levels will be quickly seen today. Asian indices confirm the swing in the mood: Nikkei grew 2.34%, Hang Seng 1,74%, while Shnaghai Composite is at the level where it opened, but there was a bullish gap.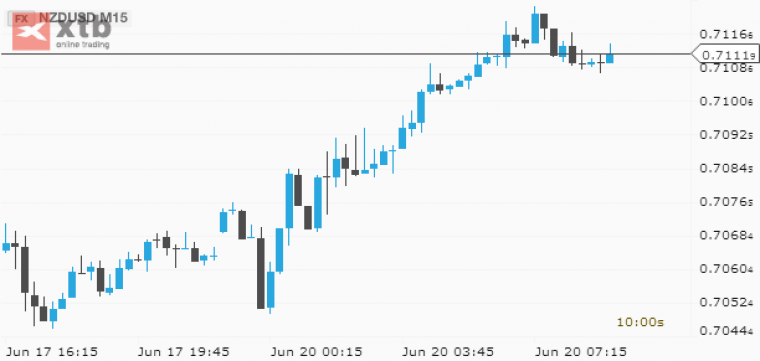 NZD is able to react to such swings in mood as it is a popular carry trade currency.
The data released overnight was actually negative for the kiwi. The released indices covering the business sentiment in the services sectror and the sentiment of consumers both declined. The latter, appearing quarterly was down from 109.6 to 106.0 - more less the level from 3Q15, which was previously observed in 3Q12. The top of the consumer sentiment was in 1H of 2014 and the downward trend that started at that time is not yet denied by this last release for 2Q. 
The former index, services PMI also moved lower  especially due to worse expectations of businesses which was a move against the imporvement seen in the manufacturing sector.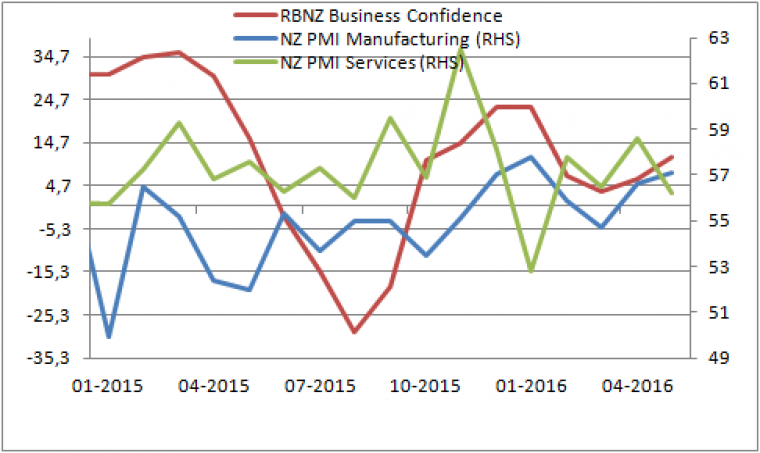 Source: Bloomberg, XTB
NZD was also holding well given the recent negative outcome of the NZ dairy auction (15-June result: -4,5% on the quantity weighted wholemilk powder price index, overall index unchanged)
Any person acting on this information does so entirely at their own risk. Any research provided does not have regard to the specific investment objectives, financial situation and needs of any specific person who may receive it.