Brexit risk seems to be dwindling and bookmakers can confirm: the implied probability derived from the odds dropped below 30% yesterday and today is around 24%. Willlima Hill even showed 2/9, so lower than the most popular bet of 1/4.
With the recent polls confirming that the tide has turned the probability is likely to fall further. But this does not mean that the pound is going to be less volatile now. Just look at what happened yesterday after a release of a favorable poll. A one figure drop in 5min, immediately reversed.
While GBP is the most affected currency by the upcoming event we are not convinced that it is best to use it in trade ideas now. Also there may be liquidity issues with it that would prevent getting desirable entry/exit levels. That is why we decided to use short CHFSEK yesterday and will give more background on this trade in a Brexit report coming today.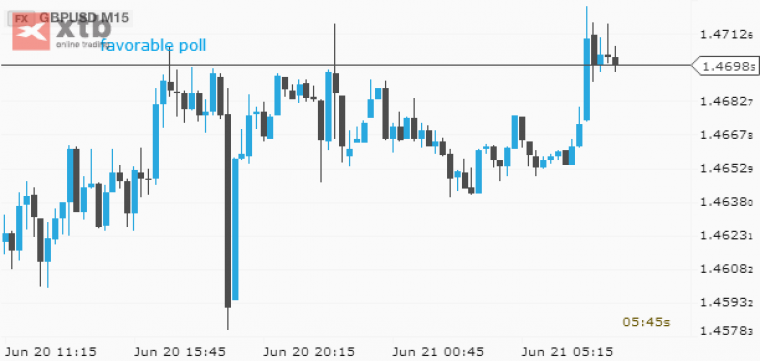 Looks like the pound is pricing in the new polls, it is already up 0.1% vs. USD today.
pewne - o ile nie wyjdzie gorszy sondaż, prawdopodobieństwo nadal będzie spadać.  
Any person acting on this information does so entirely at their own risk. Any research provided does not have regard to the specific investment objectives, financial situation and needs of any specific person who may receive it.