Here is table where we list the recent polls and adjuste the results by dividing the undecided between the two options. We use a key of adding 80% of them to the 'remain' outcome in case of online polls and 65% in case of phone interviews (which are better at extracting their views due to the contact with the interviewer).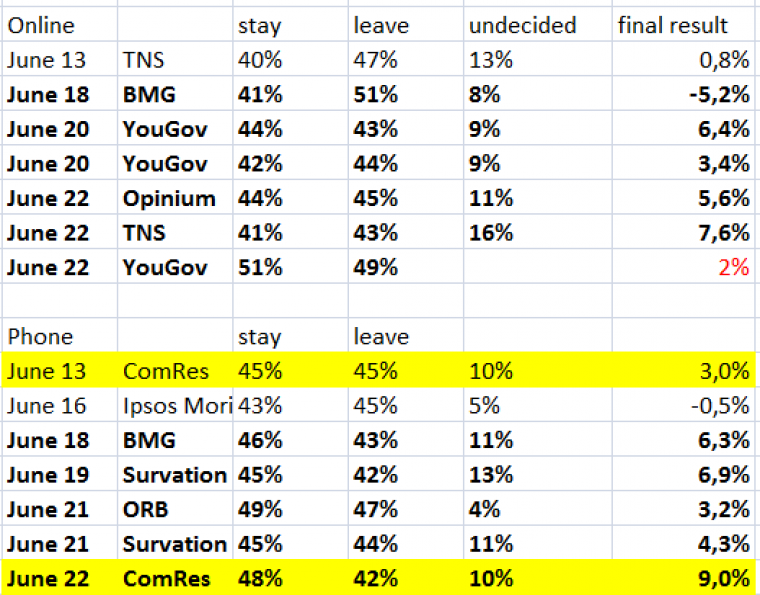 source: pollsters, Bloomberg, XTB
We highlighted the ComRes polls to show the scale of momentum against Brexit. The results that came during and after the last weekend are in bold.
The final YouGov online poll differed from the previous ones in terms of how the result was reported. We have no information on the share of the undecided but instead they were asked another question to try to say if they lean at all in aby of the directions and on that basis they were added to one camp or the other. YouGov said that "this adjustment that increased the position of Remain by a point" which confirms our assumption that there is a strong 'status quo' bias in the group that has not made up its mind hours before the vote.
And looking at the YouGov results on the back of what other pollsters were showing we can also tell that the online community that was eager to express its view and wnet to the YouGov site to take part in the poll was already skewed towards 'leaving'. So if we had the info on the undecided our table would likely show a higher lead of Bremain in the last column.
Any person acting on this information does so entirely at their own risk. Any research provided does not have regard to the specific investment objectives, financial situation and needs of any specific person who may receive it.