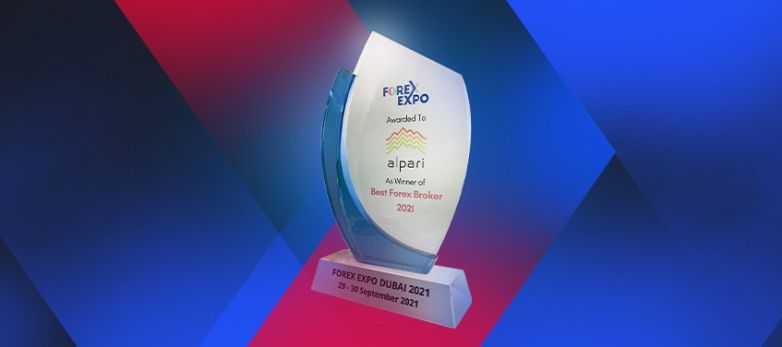 Dear clients,
We are pleased to announce that Alpari was declared the winner in the "Best Forex Broker 2021" category of Forex Expo Dubai, which was held on September 29-30 at the Dubai World Trade Center. This landmark event of the Forex trading industry brought together over 5,000 financial experts from 200 companies of 25 countries.
The Alpari brand has been present in the Middle East for over 20 years and during this time it has succeeded in gaining trust across the region. Given the company's high level of service and flexible client policy tailored to specific features of operations in each country of the Middle East region, Alpari is currently one of the most recognizable names in the FX industry. The brand received a well-deserved assessment of its activities as confirmed by the "Best Forex Broker 2021" award.
Over 80 financial experts took part in the proceedings of Forex Expo 2021. The Alpari brand was presented at the conference by Senior Analytics Advisor, professional trader and President of the International Federation of Technical Analysts (IFTA) Wieland Arlt, who spoke on the topic "The Greed and Fear Cycle in Forex Trading". In his speech, Wieland focused on emotional and psychological issues related to the process of making rational investment decisions.
At the Alpari display booth, the company's representatives held negotiations with partners and counterparties, actively communicated with existing and potential customers, talked about achievements and new technological solutions, including cryptocurrency trading on PAMM accounts, CFDs on the shares of leading global companies, connecting to new payment systems as well as many other issues. Thus, the company once again confirmed its status as a reliable brand and a client-driven financial partner.
Alpari would like to extend its gratitude to the organizers and attendees of Forex Expo 2021 and looks forward to continued cooperation and operations at the highest level for daily confirmation of its status as the best Forex broker.
Yours faithfully,
Alpari