Bitcoin breaks $34K, Ethereum eclipses $1K, and Litecoin taps $170 as the cryptoasset market welcomes the new year
While traditional markets were sleeping, Bitcoin welcomed the new year with a record-breaking rally. The leading crypto hit a series of fresh highs, tagging prices just below $35K on the twelfth anniversary of the first block mining.
The soaring prices appear to be driven by institutional buying. $1.2 billion worth of Bitcoin was discovered flowing out of Coinbase late last week, suggesting deep-pocketed traders have been buying for long-term investment.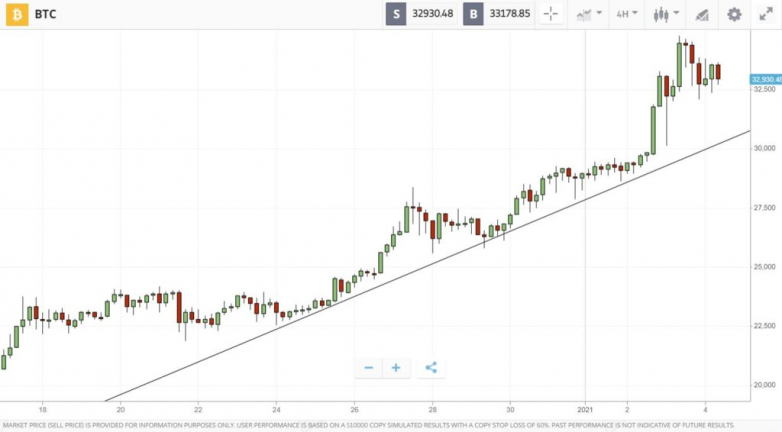 Meanwhile, the altcoin rankings have been rearranged. As Ethereum has rocketed past $1K, Litecoin has flippened XRP to become the fourth biggest crypto by market cap. This follows yet more downside for XRP, which has dropped 4% this week as platforms including eToro's US operation have delisted the coin in light of the SEC's lawsuit.
This Week's Highlights
Ethereum gets five figure price tag
Okung starts Bitcoin salary ball rolling
Ethereum gets five figure price tag
While Bitcoin is now far beyond the previous all-time high of $20K, Ethereum still hasn't surpassed its 2018 peak of $1.4K.
And yet, the second largest crypto could now be following it's bigger brother's lead. Late on Sunday, Ethereum crossed the $1K mark, concluding a week of almost 40% gains. This milestone comes exactly three years after the same price was surpassed in early 2018.
As Ethereum has made a resurgence, the entire crypto market cap has also hit a fresh all-time high of $880B, breaking the previous record set in January 2018.
Okung starts Bitcoin salary ball rolling
Bitcoin adoption reached a crescendo last week as NFL player Russell Okung said he will receive half of his $13M salary in Bitcoin.
By accepting the cryptoasset as payment, Okung is validating the asset to a whole new audience of sports fans. And, his decision has also got the Bitcoin ball rolling among pro athletes. According to reports from CoinDesk, athletes from two New York baseball and basketball teams are already seeking a similar salary arrangement.
The Week Ahead
As Bitcoin blasts through the stratosphere, cautious traders are pondering the possibility of a 30% pullback, just like those seen in previous bull rallies.
Such a move could take Bitcoin down to $24K, yet this may be counteracted by strong buying pressure from institutional players.
On the front page of this Monday morning's Financial Times, a big blue Bitcoin logo greets readers for the first time, marking another key moment of acceptance for the leading crypto among the biggest players from traditional finance.