Mere days after celebrating its 12th birthday, Bitcoin showed the world that it has much room for growth. After topping $20,000 in 2020, Bitcoin didn't stop and continued to break milestone after milestone, climbing above $40,000. Who knows? Maybe by the time you finished reading this paragraph, it already hit another milestone. 
Cryptoassets are highly volatile unregulated investment products. No EU investor protection. Your capital is at risk.
But is it too late to join the Bitcoin party? While the world's first and largest cryptocurrency is at an all-time high, there may still be a chance for investors to jump on the crypto wagon, and on eToro you can start with as little as $500.
Bitcoin's all-time high
The last time Bitcoin had such an incredible bull run was at the end of 2017, when its price soared to nearly $20,000, fueling an incredible crypto rally and reaching heights that were unprecedented at the time. 
However, that feat dwarfs in comparison to the current crypto rally, as Bitcoin improved upon its previous record by 75% and the crypto market as a whole reached the largest market cap ever. However, since cryptoassets are known to be extremely volatile, will this bull run be sustainable?
How much higher can Bitcoin climb?
Unfortunately, there's no crystal ball that can answer that question for sure. On the one hand, Bitcoin has taken roller coaster rides in the past, going to terrible lows quickly after reaching incredible heights.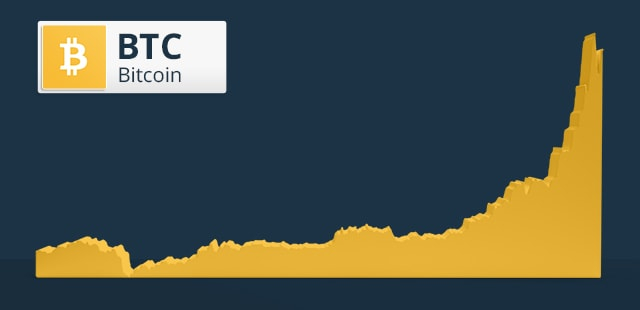 On the other hand, there's no telling when the peak would be reached. As opposed to most other financial assets, which have decades of history and charts to analyse, Bitcoin is fairly new and has less history in its charts. Is $40,000 the peak? Will it be $50,000? JPMorgan Chase thinks it'll be a whopping $146,000(!).
Cryptoassets are highly volatile unregulated investment products. No EU investor protection. Your capital is at risk.
Why is the crypto market rallying?
As opposed to other markets, in which the reason for rallies is often easily found in the fundamentals, the situation is not the same for crypto. While sometimes it is easy to pinpoint the reason for a bullish trend, often markets seem to rise independently of information available. 
However, there is one trend that started in 2020 which could be the reason for it all: institutional involvement. There is often a positive correlation between Bitcoin's mainstream inclusion and a price rally, and there have been several pieces of news that supported such an inclusion. 
Aside from the aforementioned JPMorgan endorsement, PayPal also recently announced support for Bitcoin and other cryptocurrencies, fuelling the rally that pushed Bitcoin past $20,000. Moreover, in recent years, several mainstream banks and financial firms have started offering Bitcoin custodianship to their customers. 
What's next for Bitcoin?
That's the question to which anyone in the world would like the answer. The simple truth is: nobody knows. While some have long believed that Bitcoin will reach six digits in our lifetime, others think that it will once again succumb to its highly volatile nature and come crashing down. Judging by the world's first cryptocurrency's history, either side could be right — and perhaps both will be, as Bitcoin could maintain its record-to-crash cycle.
Either way, saying that a certain direction is certain would be a fool's belief. If the history of financial markets, and especially that of Bitcoin, has taught us anything, it's that bulls can run for a long time, but could also crash in an instant. What do you think will happen?
Cryptoassets are highly volatile unregulated investment products. No EU investor protection. Your capital is at risk.