Altcoins shift up a gear after Bitcoin bounces back
As the cryptocurrency market recovers from a steep pullback, Ethereum is rising out of a sea of red to hit all-time highs.
The second-largest crypto has risen 11% on the week to hit $1,480, as Bitcoin has moved in the opposite direction. This follows suggestions from incoming treasury secretary Janet Yellen that lawmakers "curtail" cryptocurrency use, and claims that a "critical flaw" had been discovered in the Bitcoin blockchain.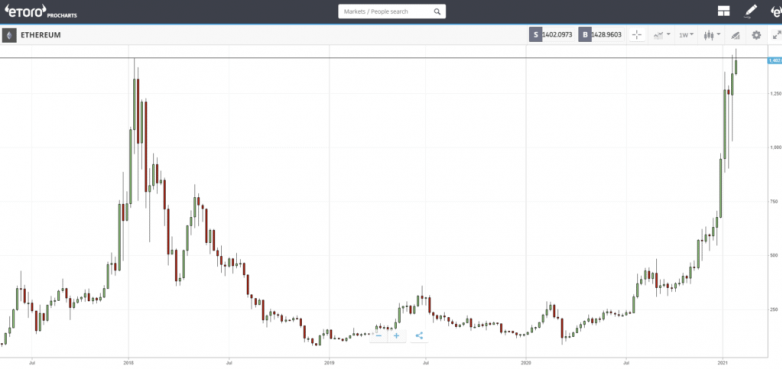 At its lowest point, Bitcoin tapped $28K before bouncing as experts took to Twitter to dispel doubts over the cryptocurrency's resilience: "Nothing weird or outside the consensus algorithm happened." tweeted Mastering Bitcoin author Andreas Antonopoulos. "Bitcoin continues to work exactly as it should."
This Week's Highlights
Institutions undeterred by Bitcoin volatility
Blackrock eyes Bitcoin funds
Institutions undeterred by Bitcoin volatility
While NexTech surprisingly decided to book profits as doubts over the Bitcoin blockchain spooked the market, other institutional buyers were filling their pockets. MicroStrategy announced the purchase of an additional 314 Bitcoin on Friday, taking their total hoard to 70,784 Bitcoin, while Grayscale concurrently scooped up more than 8,000 BTC at the discount prices.
In the bigger picture, on chain data from Glassnode shows the number of large accounts holding 1000 or more Bitcoin increased as the price dropped, suggesting that big buyers were not deterred by market volatility. This corresponded with a new report, commissioned by eToro that was launched this week, which discusses the institutional adoption of crypto, forecasting that more institutions will warm up to crypto once the market cap hits $2T.
Blackrock eyes Bitcoin funds
The world's largest asset manager looks set to wade into the Bitcoin market.
BlackRock, which oversees $8.7 trillion, has made filings with the Securities and Exchange Commission (SEC) for a pair of funds that would offer clients exposure to Bitcoin through cash-settled futures.
While Blackrock CEO Larry Fink said in 2017 that Bitcoin was an "index of money laundering", his views have since evolved. He told Bank of England Governor Mark Carney in December that Bitcoin could "possibly" evolve into a global market.
The week ahead
Bitcoin's pullback to just below $30K has historical precedent, with the cryptocurrency going through several ~30% corrections in previous bull markets.
And with Ethereum already brushing against all-time highs again, the outlook for the overall crypto market remains bullish.
On Friday, a record $4 billion worth of Bitcoin options contracts is set to expire. This is likely to spark another bout of volatility as traders rush to unwind their positions.