There is no sporting event more highly anticipated in the US than the Super Bowl. The annual match between the winners of the AFC and NFC conferences is always one of the most-watched TV broadcasts: millions of Americans, and numerous other football fans from around the world tune in to see the match that determines the identity of the "World Champion."
Invest in Stocks With 0% Commission
Your capital is at risk. Other fees may apply. 
For more information, visit etoro.com/trading/fees
Super Bowl LV (55) will take place on Monday, February 8th, 2021. This year, Covid-19 looms in the background and will have a direct impact both on the game's physical attendance, which, this year will be composed of mostly NFL players and personnel, and on advertisers. In fact, some advertisers went as far as buying airtime to support the Covid-19 vaccination effort.
Super Bowl advertising prices
Naturally, such a highly rated sporting event also shows great financial potential, and high-profile advertisers flock to secure a spot during one of the game's coveted commercial breaks. And Super Bowl advertisement costs do not come cheap: CBS, which has the rights to the 2021 match, placed a price tag of $5.5 million for a 30-second spot. But is it worth it? Do the companies which purchase this luxurious airtime get their money's worth?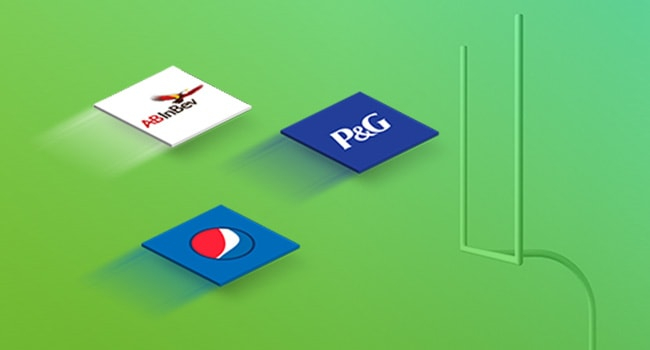 Does the Super Bowl help boost advertisers' stock prices?
Historically speaking, there is a positive correlation between a company's Super Bowl ad likeability and its subsequent stock price. A study conducted by the University at Buffalo's School of Management and Cornell University in 2009 showed that positive sentiment towards a certain Super Bowl commercial lifted a company's stock price.
The study looked at more than 500 commercials, aired over 17 Super Bowls, and concluded that those that had the more likeable commercials had higher-than-normal stock purchases on the days after the match. At the same time, the researchers concluded that commercials that were not liked did not have a negative effect on stock demand. 
While this could appear as an excellent indicator of a stock's success the day after the Big Game, there is no real way of determining the widespread likeability of a certain ad, and, therefore, no way of knowing which stocks will potentially benefit in the short term. 
What company has the most ads in the Super Bowl?
There are quite a few advertising spots during the game. Each break is several minutes long and, despite some advertisers opting to book longer slots, most of the commercials are 30 seconds long. This year, the Covid-19 pandemic has impacted advertisers' decisions, and some crowd favourites will not be participating. Most notably, Coca-Cola and Pepsi, which almost always have several spots throughout the game, have both decided not to partake this year. 
Anheuser-Busch
Since 1975, this beverage giant has had exclusive rights for beer ads during the Super Bowl. Responsible for popular US beer brands such as Budweiser, Bud Light and Michelob Ultra, Anheuser-Busch has secured a total of four minutes of airtime. To the surprise of many, the beverage giant will not air a commercial for Budweiser this year, breaking a 37-year streak. Instead, Anheuser-Busch will use some of its airtime to promote Covid-19 vaccination.
Invest in Anheuser-Busch With 0% Commission
Your capital is at risk. Other fees may apply. 
For more information, visit etoro.com/trading/fees
Procter & Gamble
This consumer goods giant will be promoting one of its flagship products, Tide, with a minute-long spot. The commercial features Jason Alexander, most remembered as Geroge Costanza from the hit 90s sitcom, Seinfeld, who will be portraying a shirt being "attacked" by various stains. Will the commercial put the PG stock into a spin cycle? Only time will tell.
Invest in Procter & Gamble With 0% Commission
Your capital is at risk. Other fees may apply. 
For more information, visit etoro.com/trading/fees
PepsiCo
As mentioned above, the food and drink mammoth will not be promoting its Pepsi Cola brand during the Super Bowl. However, people often forget that PepsiCo owns a myriad of blockbuster brands, including tortilla chip snack Doritos. Enlisting the talents of Academy Award-winning actor Matthew McConaughey, the company has released several teasers for its upcoming commercial, alongside a social media campaign, using the hashtag #FlatMatthew. The company is hoping that the commercial will do anything but flatline its stock.
Invest in PepsiCo With 0% Commission
Your capital is at risk. Other fees may apply. 
For more information, visit etoro.com/trading/fees
Fun Fact: The Super Bowl Indicator
On a side note, there is another phenomenon that relates to the impact of the Super Bowl on the stock market, albeit more anecdotal than anything else: The Super Bowl Indicator. The premise for the indicator is quite simple: the winner of the Super Bowl can predict whether the market will be bullish or bearish over the year that follows. 
According to the inventor of the indicator, New York Times sportswriter Leonard Koppett, who coined the term back in 1978, if the winner comes from the AFC conference, markets will be bearish, and if the winner is from the NFC, markets will be bullish. While there is no evidence or scientific explanation to justify this, the indicator has been correct 40 out of 54 times so far.
This year, the AFC Champions are the Kansas City Chiefs, who also won last year, and the NFC Champions are the Tampa Bay Buccaneers. 2020 ended up being extremely bullish, so, the indicator was wrong the last time around. 
Both Super Bowl ads and the Indicator are probably not the first on the list of fundamental analysts. However, it is always fun to look at these less-likely correlations.
Invest in Stocks With 0% Commission
Zero commission means that no broker fee will be charged when opening or closing the position and does not apply to short or leveraged positions. Other fees may apply. Your capital is at risk.
For more information, visit stocks.eToro.com
This is a marketing communication and should not be taken as investment advice, personal recommendation, or an offer of, or solicitation to, buy or sell any financial instruments. This material has been prepared without taking any particular recipient's investment objectives or financial situation into account, and has not been prepared in accordance with the legal and regulatory requirements to promote independent research. Any references to past or future performance of a financial instrument, index or a packaged investment product are not, and should not be taken as, a reliable indicator of future results. eToro makes no representation and assumes no liability as to the accuracy or completeness of the content of this publication, which has been prepared utilising publicly available information.