Litecoin breaks $200 and Ethereum nears $2K as corporate America embraces Bitcoin
The Bitcoin rocket has blasted to new highs above $49K after Tesla'a $1.5bn treasury allocation triggered a buying frenzy last Monday.
As the week continued, more bullish news hit the headlines. Twitter said it was considering adding Bitcoin to its balance sheet, and BNY Mellon and Deutsche Bank revealed plans for cryptocurrency custody. Finally on Valentine's Day, corporate America's embrace pushed Bitcoin over the edge to climax above $49K before pulling back.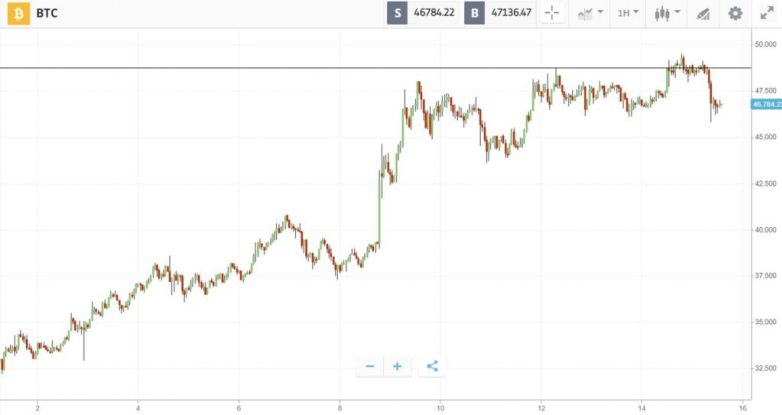 Following Bitcoin's lead, most major cryptocurrencies are flashing big weekly gains. Dash almost doubled in value before pulling back, and Cardano rose over 50% following the much-awaited "Mary" upgrade. Meanwhile, Zcash and Binance Coin have made double-digit gains, and Ethereum has hit new highs above $1,800 after institutions scooped up 53,000 ETH through Grayscale in a single day.
This Week's Highlights
Tesla treasury allocation triggers corporate interest
Wall Street banks make moves on Bitcoin
Tesla treasury allocation triggers corporate interest
Tesla triggered a 20% Bitcoin pump on Monday as the carmaker's $1.5bn allocation was revealed in an SEC filing, along with plans to accept the cryptoasset as payment.
As the community celebrated a key turning point, mainstream media outlets including Barron's and the Financial Times ran full-page features, adding yet more momentum to the bullish crypto market.
Since then, speculation has run wild about which Fortune 500 firm could be next. Speaking to Bloomberg on Monday, Galaxy Digital founder Mike Novogratz said that we are "going to see every company in America" make an allocation.
Wall Street banks make moves on Bitcoin
As Bitcoin begins to enjoy more mainstream appeal, banks are rushing to capitalize on the cryptoasset.
The world's largest custodian BNY Mellon, which has more than $40 trillion worth of assets under administration, has announced that it will offer a custody service. Deutsche Bank is also planning to offer cryptoasset, and famous former crypto critic JP Morgan said that it would start trading Bitcoin "at some point" if there was client demand.
Meanwhile, Mastercard has followed Visa and PayPal to allow merchants to accept cryptocurrency payments, and Apple Pay has adopted Bitcoin through cryptocurrency spending service BitPay.
The week ahead
Last week's wave of adoption has washed the market up to critical psychological barriers: Bitcoin is approaching $50K, and Ethereum pushing towards $2K. Passing these milestones would be likely to attract more media attention, and could catalyze another surge. However, volatility could be expected as traders take profit at these pivotal levels.
On Tuesday, US big investors are set to release details of their investments in quarterly 13-F filings, which could reveal more evidence of cryptoasset uptake amongst institutional players.