The US currency turned to the upside on Wednesday, sending the dollar index back to the upper end of the downward channel of the past four months.
Contrary to the momentum at the beginning of the week, the dollar's strengthening this time came as risk appetite recovered, with the Nikkei225 gaining 1.4% on Thursday and the MSCI Asia Pacific region excluding Japan returning to all-time highs.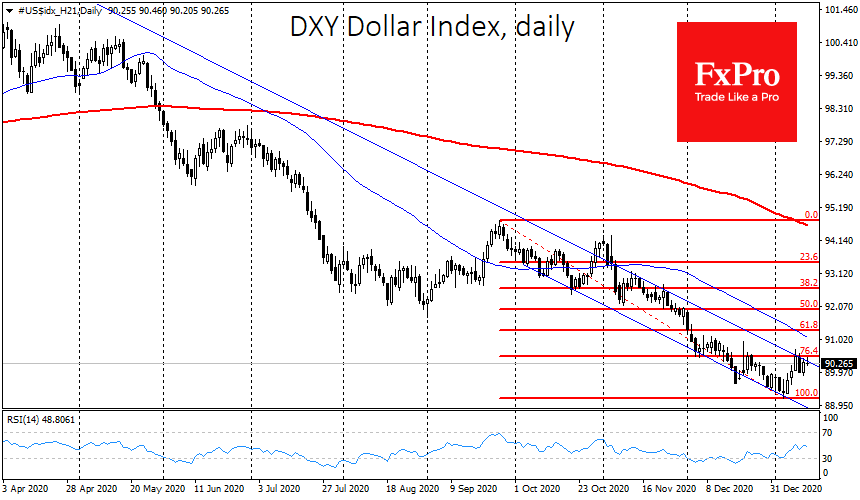 In the US debt market, 10-year Treasury yields rose from 1.08% to 1.11% on Thursday morning but remain well below the highs of the week around 1.18%.
Rising equities and falling bond prices are somewhat at odds with the development of the dollar, which is often under increasing pressure in such circumstances. Investors will soon have to determine which instruments' dynamics should be taken as an indicator of a longer trend.
On the currency market, a signal of a short-term reversal may be a renewal of the week's highs by the dollar index. In that case, we might see the start of a deeper correction or even a return to the upside, with the nearest potential targets at 91.3 and 92 on the DXY.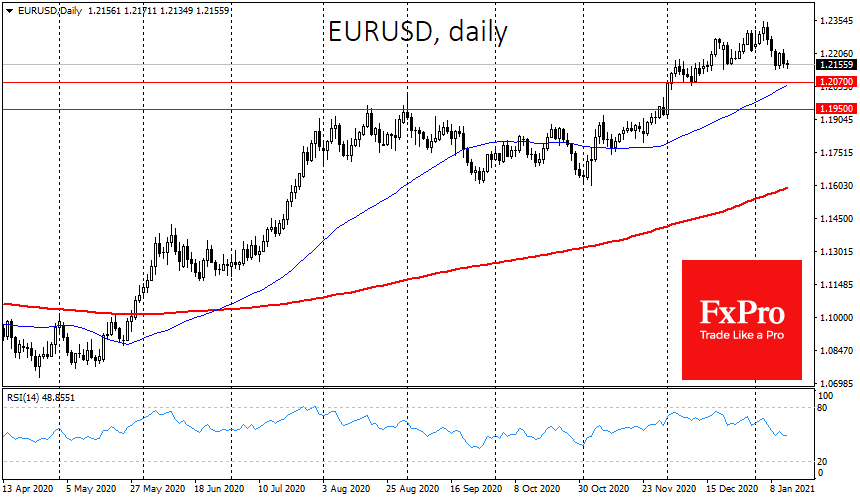 For EURUSD, 1.2070 and 1.1950 would be similar pullback targets. An approach below 1.2000 might make participants revise the current extreme-negative attitude towards the US currency.
Nevertheless, we only need to look back at the dynamics of the pound and the yen to have doubts about the interest in the dollar as a protection against market risks.
GBPUSD remains near its local highs with a lot of support from the Governor of the Bank of England, who recently reiterated his reluctance to use negative rates. Overall, the pound is very sensitive to the risk attitude of global investors. The persistence near 32 months highs after a brief correction indicates risk-on sentiments.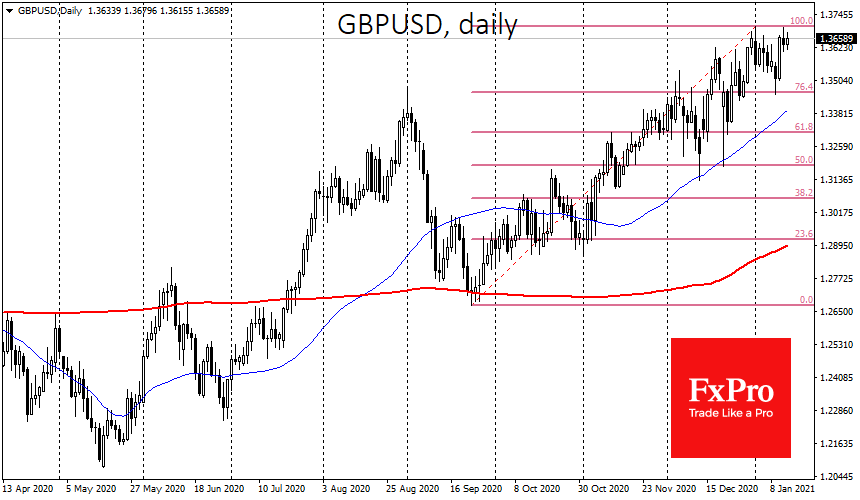 USDJPY rebounded from 102.50 earlier in January and is now trading above 104. Yen weakness is also visible in pairs with the euro and pound, reflecting investors' interest in risk assets at the Japanese currency's expense, which is often used to fund margin trades.
Source: FXPro