On the first working day of the new year, global stock exchanges failed to maintain a positive outlook due to intensified political confrontation on several fronts at the same time.
US markets came under increased pressure due to the senate runoff in Georgia, as markets fear that Republicans will lose two Senate seats to Democrats.
This is a downside risk for the markets, where the November-December rally was mainly fueled by hopes that the Senate will block reforms that cut support for companies. Also worrying for investors is the fact that the Democrats are often the first to call for budget discipline and tax increases.
The uncertainty surrounding the election in Georgia has led to a spike in the VIX volatility index. A rare situation has developed where the short-term outlook is now seen by investors to be more cloudy than the long-term one.
This uncertainty put pressure on US equity indices, which rewrote all-time highs early Monday but lost about 1.5% over the day.
Technically, this could indicate a very sharp fall from the highs. Often such dips from the highs become the catalysts for trend reversals. Therefore, it is worth keeping a close eye on the performance of the S&P500 in the coming days. The development of the decline runs the risk of initiating a correction.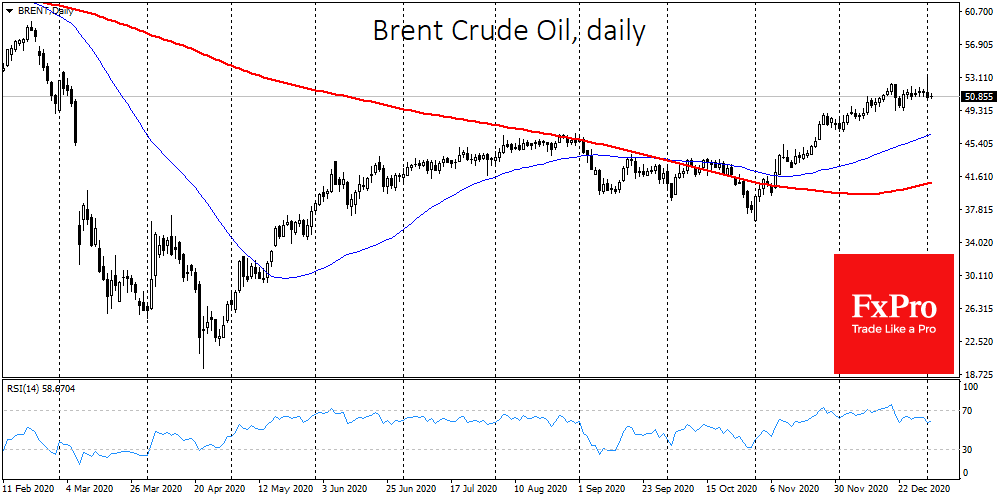 The technical picture painted by the daily oil charts is even more worrying for the bulls. The rallies of Brent and WTI in previous weeks sent quotations into overbought territory. The Brent rally above $53 early in the day turned into a sell-off, which plunged the oil below $51 on the news of OPEC negotiation progress.
The meeting of the cartel unexpectedly encountered a serious disagreement between Saudi Arabia and Russia, with the latter insisting on an increase in production. Russia is re-engaging in a battle for market share, watching the US ramp up its drilling activity and noting a healthy increase in oil demand in Asian countries.
Self-restraint by the cartel could give back the lead in oil production to The States fairly quickly.
Having failed to reach an agreement yesterday, OPEC hopes to come to a consensus today. However, the rift in the alliance between the Russians and Saudis has once again become apparent. This is likely to make buyers warier of the prospect of further price increases in the medium term and may lead to a pullback in the coming days.
Source: FXPro