While one hears in the markets several times a year that "the world will never be the same", it is easy to see market cyclicality, if not in individual stock names, then in sectors.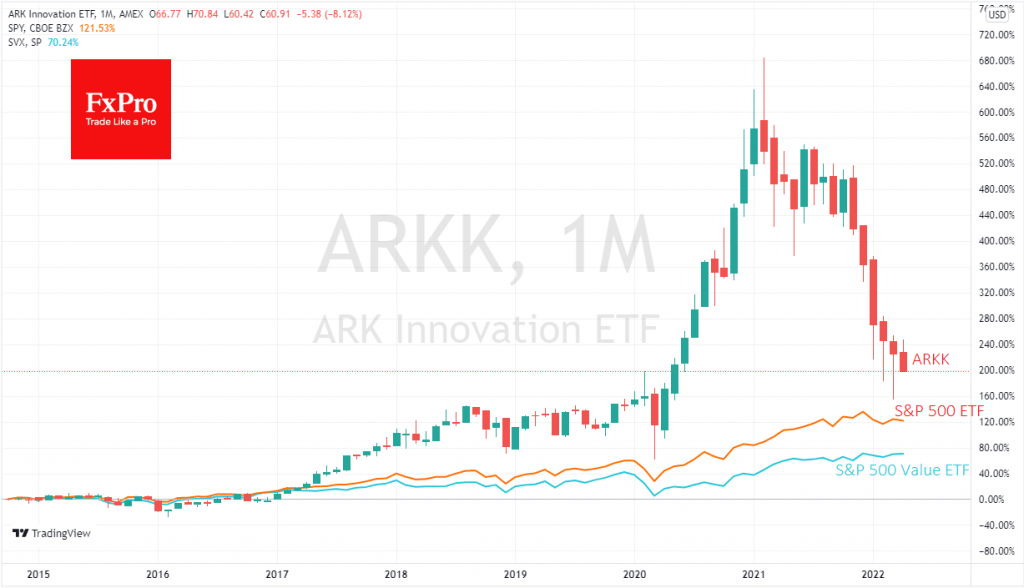 Over the past 14 months, Katie Wood's flagship fund, Ark Innovation (ARKK), has lost 62% from its peak. This is the second time in the last month that the fund's value has returned below pre-pandemic levels.
In contrast, the S&P500 index is now a third higher than those levels, an essential indication of how difficult it is to beat the broad market. Buffett has repeatedly said that passive investment in the broad market index is a better long-term strategy than active stock selection.
ARKK's five-fold rise from pandemic lows in less than eleven months has often been proof of the value of active management and betting on innovative companies. And all these years, Buffett's Berkshire Hathaway fund has been sitting on cash mountain. But over the last month, it has already made three major purchases: Occidental Petroleum, Alleghany, and HP. These purchases are seen as classic value company choices.
Two signals are worth reading in this old bull's wake-up call: 1) valuations of "value" companies have become attractive and 2) hoarding cash is no longer efficient.
Markets stopped valuing growth companies about 14 months ago, switching to commodity companies, accompanied by years of record inflation following the price spike. The growth cycle for commodities companies is hardly over, as commodities continue to appreciate, and there is no sign of a correction on the horizon.
Investors looking for new ideas to diversify their portfolios are likely to focus more on so-called value stocks, whose businesses are resilient to economic cycles and pay stable dividends. Not only has this trading idea sounded boring in recent years, but indeed sector stocks have seriously underperformed the market.
Now the market may well switch to buying "value" to park capital in sectors with a stable market and a more predictable outlook. After all, the fog hangs over the market from one of the sharpest monetary policy tightening in decades, amplified by logistical problems. Meanwhile, governments in developed countries have limited stimulus because of inflation and record levels of public debt to GDP.
In a hard landing scenario for the economy, temporary parking of capital in cash in the coming months may make sense, at least until there are consistent signs of cooling price growth and degrading inflation expectations.
The FxPro Analyst Team