Global stock markets fumbled for support in Tuesday's slump, with the S&P500 strengthening by 1.5%. Positive vibes continue to spread through the markets on Wednesday morning, sending European indices higher.
However, looking at FX market dynamics, there is a growing sense that the backbone of the bull market has broken already. 'Buy the deep' tendency remains in place for now, but the systematic rise in the dollar indicates that yesterday's lull is just a small respite as part of a wider unwinding of risk positions.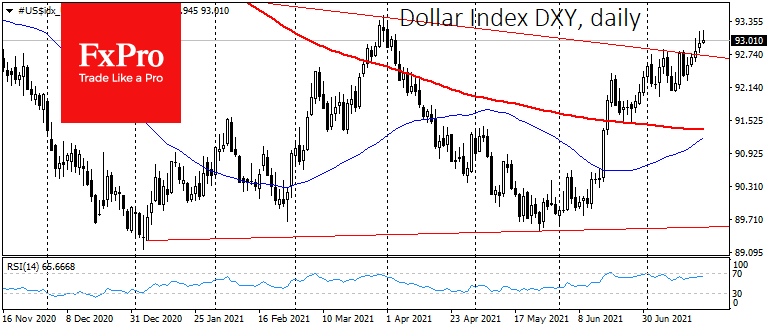 The Dollar Index has now topped 93, broken through the resistance of the converging range and is now close to this year's peak area of four months ago. This pattern suggests a technical breakdown, but for it to be confirmed, we must wait for an increase above the March highs at 93.4.
The major currency pairs are dominated by dollar buying, which, together with falling US debt yields, indicates a broader pull towards defensive assets.
Thus, in the EURUSD pair, methodical selling on intraday rallies is visible, and a general downtrend has already formed at the beginning of June. Worse still, a "death cross" looming over with the 50 SMA is moving below the 200 SMA. This cross will happen in the coming days, which tends to intensify the selloff sharply.
This morning, the GBPUSD was below 1.3600, falling under the support at 1.3700 and its 200-day moving average earlier in the week. Cable often directly correlates with the stock market, so the pair's current dynamics speak in favour of renewed selloff soon.
The AUDUSD is also at the mercy of the bears, having rolled back to 0.7300, the lows since last November.
The Chinese renminbi stands out from this trend, gaining strength against the dollar for a second day. The USDCNH selling has intensified on the approach to the 200-day average.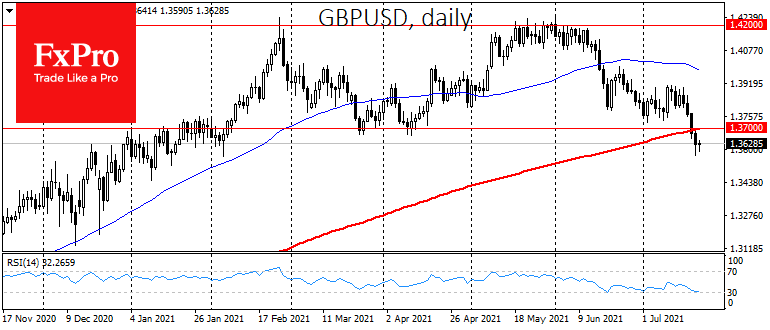 As we have seen many times, the stock market can go up for a while on inertia but very often joins the dynamics of the debt and currency markets.
The gold developed a decline after it failed over the 200 SMA. Silver ended a long period of consolidation by sharply falling $25. The speculators in the precious metals market seem to be maintaining a bearish mood, which could very quickly transfer to gold as well.
Source: FXPro