U.S. stocks traded mixed on Tuesday after a March inflation report turned out not as bad as some traders feared, but the impact of a halt to the rollout of Johnson & Johnson vaccine kept optimism in check. The Dow Jones Industrial Average fell 140 points, or 0.4%, while the S&P 500 added 0.1% to reach a new intraday record high. The Nasdaq Composite, the relative outperformer, gained 0.7% as Apple, Amazon and Nvidia all gained at least 1%. Tesla rose 5.2%.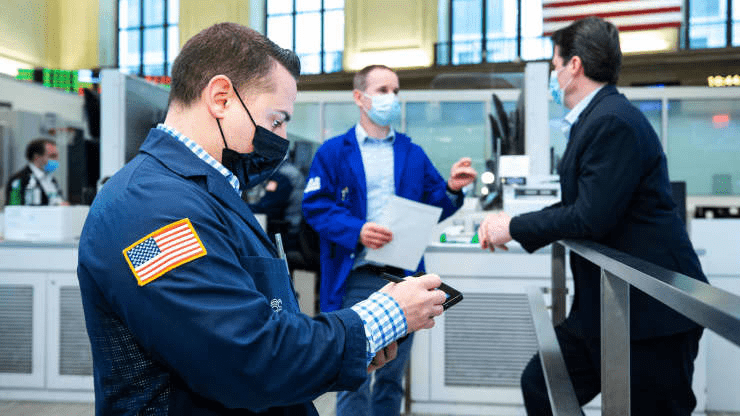 Reopening trades remained under pressure after the U.S. Food and Drug Administration said it's recommending a pause in the Johnson & Johnson Covid-19 vaccine after reported cases of blood clotting. There have been six reported cases of a rare and severe type of blood clot after receiving the J&J vaccine, the FDA said. The administration is calling for a pause in the vaccine until Centers for Disease Control and Prevention concludes its investigation into these cases.
Acting FDA Commissioner Janet Woodcock said later Tuesday that she expects the pause to last "a matter of days." More than 6.8 million doses of the single-dose vaccine have been administered in the U.S. J&J shares fell 2.6%.
Shares of companies that would be hurt the most if the vaccine rollout slows came under pressure Tuesday morning. United Airlines stock pulled back 1.3% and American Airlines lost 2.8%. Shares of Moderna, which makes another coronavirus vaccine, jumped 7.7% following the J&J news, which was reported first by The New York Times.
"I don't think there's going to be a huge reaction in the market beyond the knee-jerk reaction we're getting here right now," said Mike Wilson, chief U.S. equity strategist for Morgan Stanley, on CNBC's "Squawk Box." "We're optimistic, very optimistic that we're going to be reopened fully in the second half of this year."
The consumer price index, one of Wall Street's most-popular inflation gauges, rose 0.6% in March and increased 2.6% from the same period a year ago. Economists polled by Dow Jones were projecting the headline index to rise by 0.5% month over month and 2.5% year over year. Core CPI, which excludes volatile food and energy costs, increased 0.3% monthly and 1.6% year over year.
Fed officials said they are willing to let inflation run hot for a period of time without changing their accommodative policy stance, including asset purchases and a benchmark interest near zero. The bond market was also subdued on Monday, with the 10-year Treasury yield edging lower to just above 1.66%. Yields move inversely to prices. The market has been calm over the past week as Wall Street settled into a lull ahead of the first-quarter earnings season. Corporate news is set to pick up later in the week, with JPMorgan Chase, Goldman Sachs and Delta Air Lines among the companies set to report quarterly results.
Source: FXPro