Germany's GDP fell by 1.7% in the first quarter, says Destatis. The fall to the same period a year earlier is 3.3%. This is in clear contrast to the USA, where the economy is already 0.4% above pre-pandemic levels.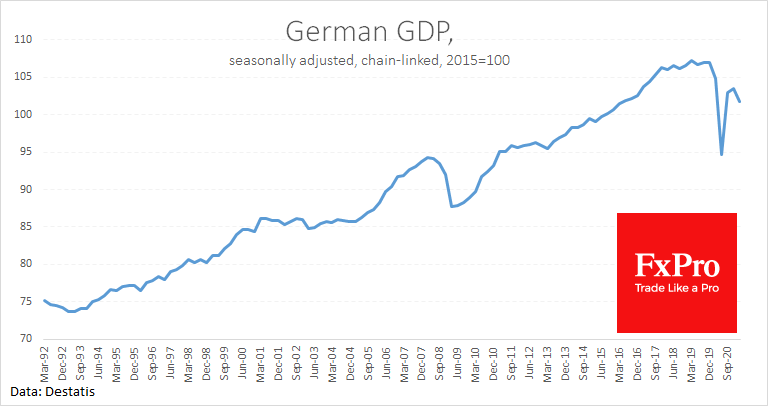 Germany, and the eurozone as a whole, has suffered repeated lockdowns due to the third wave of coronavirus and problems with mass vaccination.
Once again, we see confirmation that massive stimulus without looking at the budget helps the economy recover quickly.
In the longer term, unchecked fiscal spending backed by central bank QE has the potential to undermine confidence in the currency, which is behind the weakening of the dollar over the past year.
Short term, however, the difference in economic performance has played against the euro. As a result, EURUSD is back below 1.2100 this morning. The continued clear contrast in European and US data could trigger a correction pullback in EURUSD in the coming days. Still, we should expect to see stronger buying on the dip due to the difference in monetary policy and the trade balance.
Source: FXPro