Oil has lost its upside momentum. Despite reports of record gasoline prices in the UK and the US, crude prices are losing around 0.6% on Wednesday morning on speculation that the supply-demand balance point is approaching. The price of Brent crude has retreated 5% and WTI 5% from late October peaks.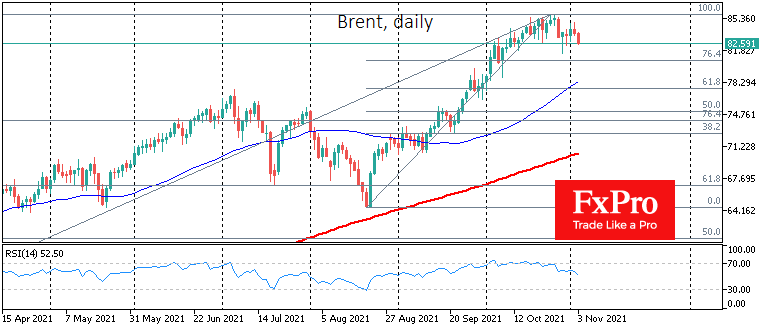 The OPEC monitoring committee will meet again later this week to discuss December production quotas. The intrigue is whether we will hear signals that the cartel and allies are willing to deviate from the previously agreed pace of quota increases of 400k per month.
Earlier, we have heard reports that the US is trying to pressure oil-producing countries to increase production.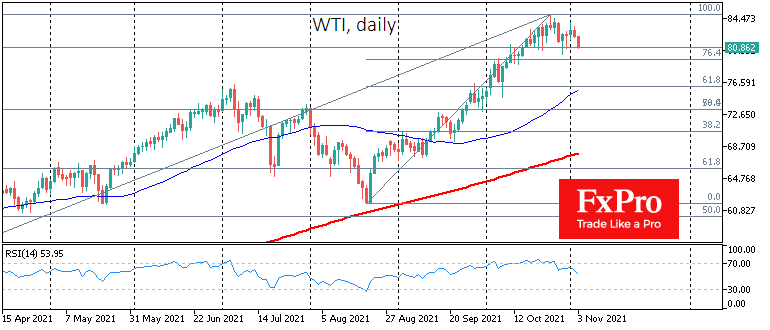 Interestingly, the US itself is also clearly stalling the recovery of its production. The green agenda in the US and reduced incentives for oil and gas production has resulted in America producing 11.3m b/d versus a peak of 13.1. Russia and Saudi Arabia supply less than their peaks, but overall production declines are flat between these regions.
Graphical analysis suggests that the latest rally in oil prices, which started in August, has moved into its final stage, and we probably already saw a local price peak at the end of last month.
The oil market will likely need a reset in the coming weeks, potentially correcting to $78.5-81.5/bbl for Brent and $75.7-79 for WTI. Such a pullback could clear the way for further buying as part of the bullish momentum.
But it also cannot be ruled out that a more aggressive production build-up by the US and OPEC is on the way while the pace of demand growth slows. In that case, we could see a deeper correction with downside potential at $74 and $73, respectively.
Source: FXPro