Brent crude prices have jumped 13% since the start of the week, trading above $110 a barrel at the time of writing. These are the highest levels since July 2014.
Meanwhile, the ruble continues to retreat against the dollar and euro. USDRUB is now trading at 106.40 ( 5.5%) on the Moscow Exchange, and EURRUB is above 118 ( 5%). In both cases, rates are approaching the highs set at the start of trading on Monday. As would be expected, the announced support measures from the Central Bank are softening the fall but not reversing it.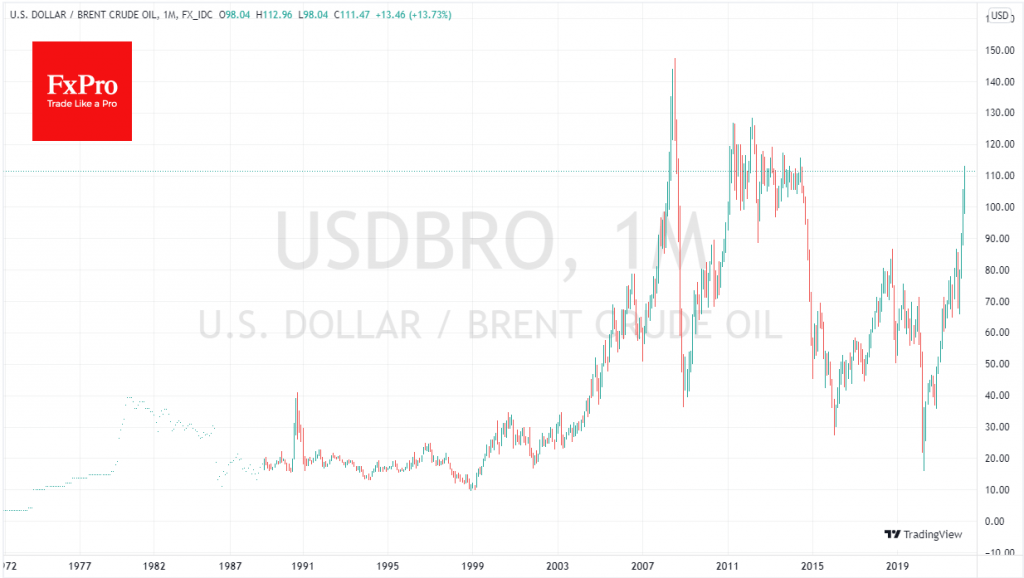 not,
The one-way movement in oil prices is since buyers in Europe are increasingly refusing to buy Russian oil, trying to find a replacement for it. This shift in priorities is visible in the sharp widening of the spread between Urals and Brent.
Historically, and without various restrictions, the spread between these grades is $2-3 in favour of the lighter Brent. Now it is more than $18 as buyers are not chartering new shipments. Canada is refusing to buy Russian oil, and the UK (which is much more dependent on energy imports) is considering options for sanctions against the industry. The European Parliament has passed a resolution calling for EU oil and gas imports restrictions.
Thus, Russia has failed to fully benefit from higher prices, losing both in sales volumes and facing an actual fall in selling prices. The potential for already announced measures destabilises the market, setting Russia up to start using energy or agricultural products as a retaliatory measure.
While it is hard to imagine the world without Russian energy in the coming months – it will be as chaotic as the oil crisis in 1973, with the oil price soaring fourfold in six months of the embargo. We may see a smaller price jump but with much wider economic consequences.
It is ironic that Europe and Western countries, in general, were helped by the Soviet Union. Now consumers are left to rely on the Middle East and its reserves.
Yesterday, Biden announced an agreed sale of 60m barrels to 30 countries. Still, the market reaction to these announcements indicates that the market was expecting more, and the announced volumes are not enough. It is hard to say the theoretical limit to oil's rise. The Brent price could surpass the 2012 highs of $128 in a matter of days or aim for a historical record of $147.
Source: FXPro