Oil is adding around 1% on Monday after posting the 4th week of back-to-back decline, during which WTI lost almost 12%, and Brent nearly 11%. Nevertheless, the US and oil-consuming countries continue to put verbal pressure on quotations, discussing the possibility of selling off strategic stocks to bring down the price.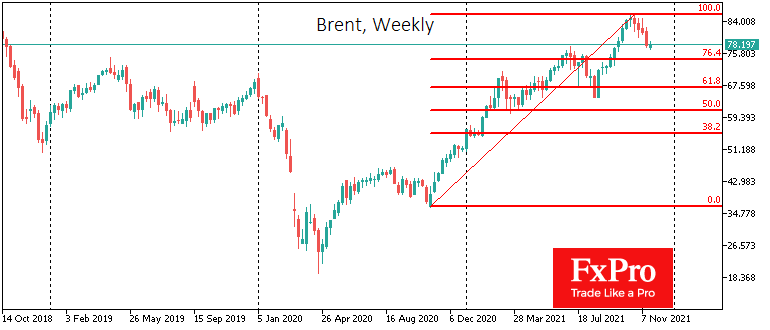 These media reports put pressure on quotations because of speculation that the USA, China, India, and Japan – the biggest oil importers – could bring prices down in the short term by overly decisive actions.
Additionally, a jump in coronavirus cases in Europe, leading to stricter lockdowns and undermining demand, is taking away the support for Crude.
In parallel to this, OPEC , albeit too slow (according to importing countries), is still increasing production quotas.
The momentum of the correction after a year-long rally may not attract significant buyers demand until a drop to $75 for Brent in a moderately negative scenario and $67 in a sharp rebalancing towards surplus. For WTI, the $73 area (2018 highs) and $65 (round level and 2019 peak area) act as meaningful reference points.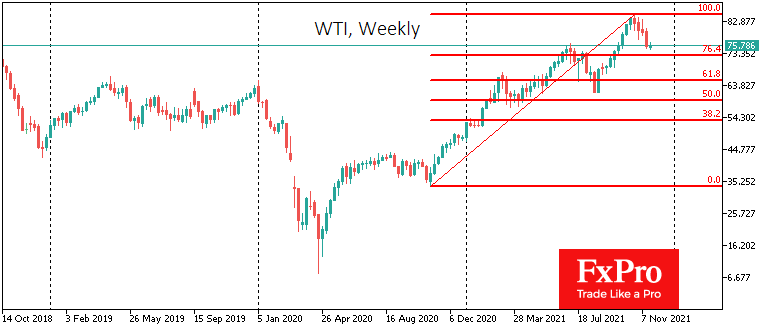 However, the global trend in oil is still on the bullish side if we look beyond the medium-term fluctuations.
In the USA itself, the recovery in drilling activity has been notably slower than since the "bottom" in 2009 and 2016. In contrast to the price shock in 2014-15, the collapse in quotations in 2020 coincided with the so-called energy transition. The focus of investors and policymakers in developed countries has shifted to alternative energy sources.
While we have seen a steady increase of 150% in the number of rigs in the US since last September, production has risen by 4% as most of the new rigs compensate for depleted wells. It is also possible that some of the rigs are being made redundant and, it may take up to 2 years until the rate of production growth increases in any notable way.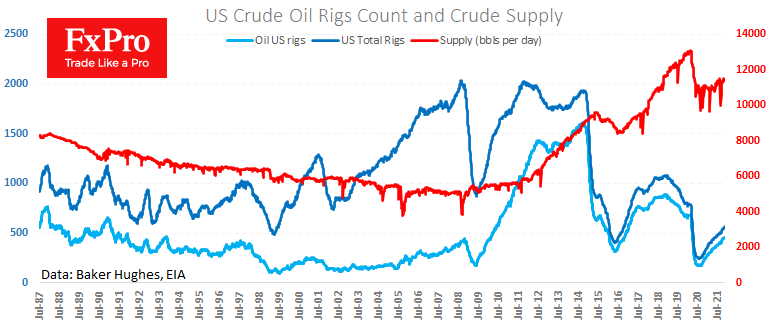 In the longer term, we see more supply and demand contraction risks for oil, which is harmful to revenues and share prices of oil producers. That said, oil prices may well remain at high levels for many more years until alternative energy becomes more efficient and reliable.
Source: FXPro