The growth of Latin American currencies marked the beginning of the month. The Brazilian real added 4% to its lows at the start of the month. It pushed the Dollar back to 5.47 against 5.7 on November 2. The Mexican peso strengthened by 3.4%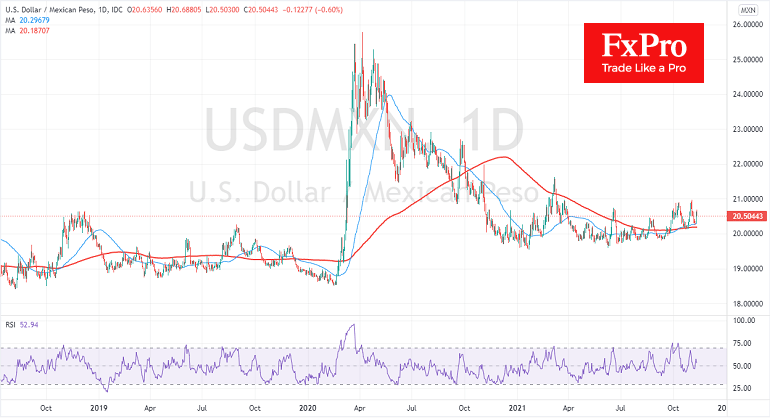 Interestingly, the basket of the six major currencies against the Dollar changed little over the same time. Usually, the increased demand for high-yielding currencies comes with low market volatility and strong economic growth. But this time, we could see a development or even the beginnings of a new trend favouring emerging market currencies.
Mexico and Brazil have been actively raising interest rates without any curtsey towards the temporary nature of inflation. But in recent weeks, the ECB, the Fed and the Bank of England have surprised with a dovish stance on rates and pointed out that the markets were wrong in their rate hike forecasts.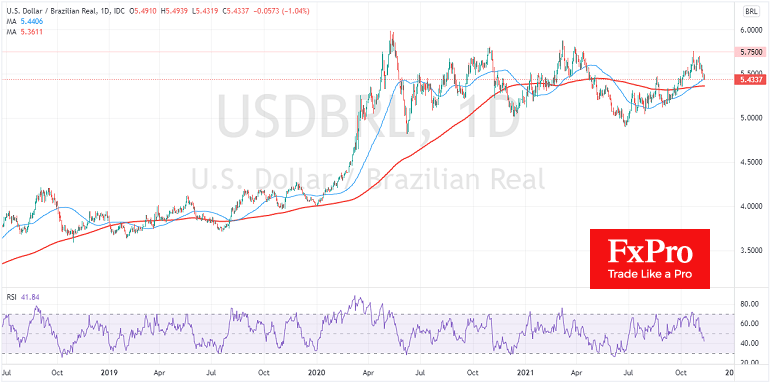 Markets are reacting with buying of currencies of those countries where central banks preferred to raise rates. This trend will only gain strength as inflationary pressures ease as it entails rising real bond yields and attracts buyers into bonds.
USDBRL and USDMXN are pulling back to their 50-day averages. The development of Peso and Real buying from these levels could accelerate the rise of these currencies, marking a broader acceptance of the idea that a period of bloom is coming for the high-yielding currencies.
Source: FXPro