Global markets are showing resilience after a day of violence rocked the U.S. Capitol, with investors firmly focused on the prospect for more economic stimulus and the likelihood that calm will prevail as Joe Biden takes the presidency. S&P 500 futures were up 0.1% and most stock benchmarks across Asia and Europe were in the green. Treasury yields held above 1%, while the dollar strengthened against all its major peers. In a sign that traders are still willing to pile on risk, Bitcoin shot above $37,000 to another record high.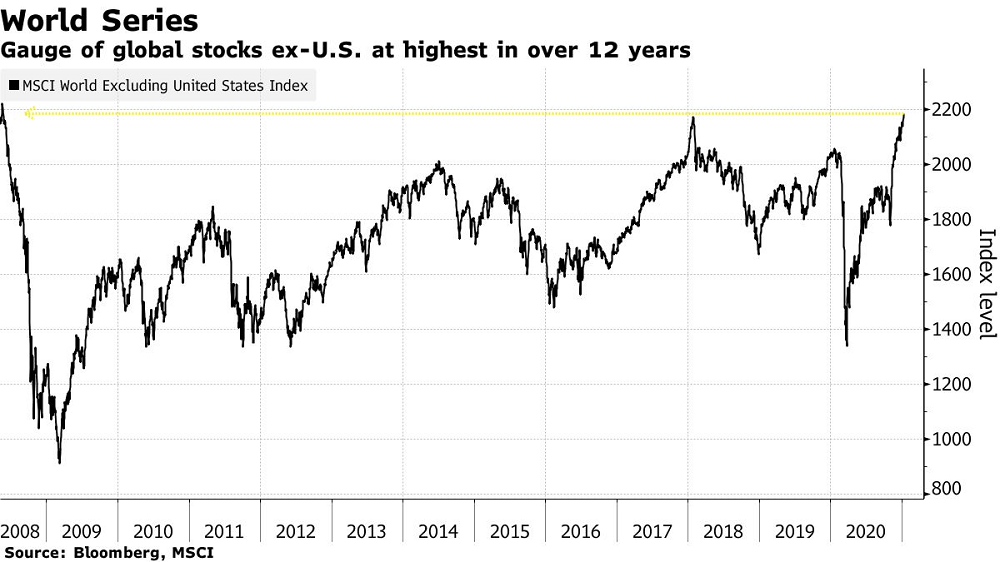 Biden was formally recognized by Congress as the next U.S. president early Thursday, a day after demonstrators overpowered police and stormed through the Capitol building in a scene of unprecedented turmoil in Washington. Present Donald Trump released a statement pledging "an orderly transition" after Congress certified the results. Despite the disruption, markets showed little sign of worry and trading throughout the day was normal. Bullish themes, such as the prospect for more U.S. stimulus spending in a Democrat-controlled Congress and the vaccine rollout, have dominated investor attention.
Stocks
Futures on the S&P 500 Index increased 0.1% as of 11:47 a.m. London time.
The Stoxx Europe 600 Index rose 0.2%.
The MSCI Asia Pacific Index climbed 0.8%.
The MSCI Emerging Market Index gained 0.2%.
Currencies
The Bloomberg Dollar Spot Index rose 0.5% to 1,119.65.
The euro fell 0.5% to $1.2263.
The British pound dipped 0.2% to $1.3577.
The Japanese yen weakened 0.6% to 103.64 per dollar.
Bonds
The yield on 10-year Treasuries rose less than one basis point to 1.04%.
The yield on two-year Treasuries was unchanged at 0.14%.
Germany's 10-year yield decreased two basis points to -0.54%.
Britain's 10-year yield gained less than one basis point to 0.245%.
Commodities
West Texas Intermediate crude rose 0.3% to $50.70 a barrel.
Gold weakened 0.1% to $1,917.33 an ounce.
Source: FXPro