Later today, the Bank of England will get a chance to clarify its stance, which surprised traders with the pound two weeks ago. An unexpectedly dovish stance on monetary policy sent GBPUSD into the 1.3400 area, near the lows from December 2020.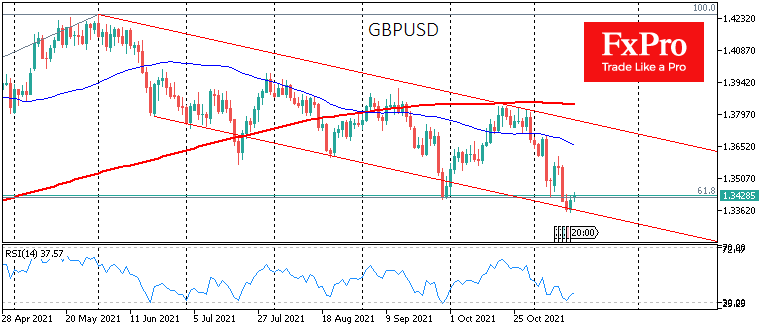 The Bank of England then showed disagreement with the markets, which had put a key rate hike in quotes. Last week, however, again, a rate hike in mid-December was priced into the bond.
Once again, we come to an important moment of decision for the Bank of England: Manage expectations or follow them. Most of the time, the central banks of developed countries prefer to manage medium-term expectations and follow short-term ones not to create shocks in the markets. Deviations from this policy only occur at crucial moments, much like we are probably at right now.
Markets are now overly frightened by inflation and are waiting for the central bank to take the appropriate steps, but this is only happening in EM countries. At the same time, the world's biggest central banks are more determined to see a repeat of the bumpy 2009-2013 recovery, with multiple episodes of economic contraction.
Suppose the Bank of England continues to show today that it is more focused on the economic recovery and not concerned about inflation. In that case, it promises to cause even more pressure on the Sterling, and the GBPUSD could fall back to 1.3000 already before the end of the year.
A 9% fall in the pound over six months would be an additional pro-inflationary factor and will need to be watched closely to see if this causes shocks to the economy.
Source: FXPro