US inflation data caused a surge in volatility. The general price index rose 0.8% for April, against expectations of 0.2% and 0.6% in March.
The rate of price increases continued to pick up last month, contrary to expectations of stabilisation. The core index (without energy and food) jumped 0.9% MoM, the strongest since 1982.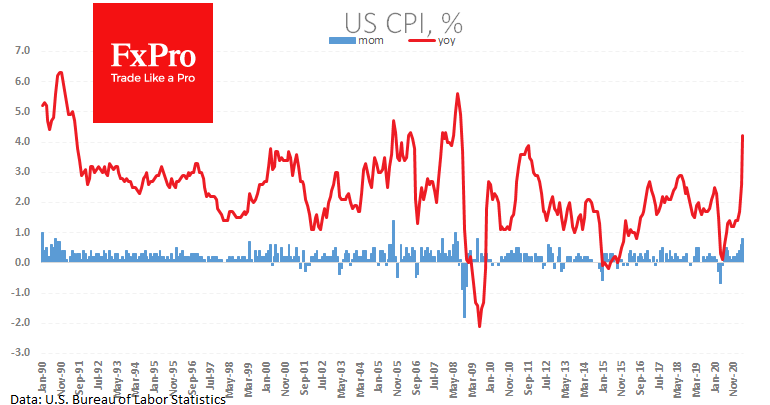 Annual inflation accelerated to 4.2% from 2.6% a month before. It is easy to see that this acceleration goes well beyond the low base. Used car prices were the driver ( 10%), and transportation costs rose 2.9% in April after increasing 1.8%.
This acceleration in inflation reinvigorated speculation of an imminent monetary policy tightening, causing an increased pull into the dollar after the release.
The next move is now up to the Fed. Inflation worries are a support for the dollar. Signals from the FOMC that this report does not affect monetary policy will turn markets 180 degrees as investors will look for insurance against inflation by buying commodities and foreign currencies.
Source: FXPro