PREVIOUS TRADING DAY EVENTS – 24 May 2023
Announcements:
The 2-digit inflation has finally become 1-digit, specifically 8.7%, according to the CPI data released yesterday, the 24th of May. This is a good sign for the Central Bank as U.K.s inflation rate remained much stronger than expected with the Bank of England to hike rates continuously, fighting a sticky 2-digit inflation.
The figure reported was higher than the 8.4% reading forecast by the central bank.
"With inflation proving stickier than the Bank expected, it now seems all but certain that the Bank will raise interest rates from 4.50% to 4.75% in June and perhaps a bit further in the months after," said Paul Dales, the chief U.K. economist at Capital Economics.
The BOE Governor, Andrew Bailey, had scheduled speeches to take place during the trading day after the release. He stated that their projections show that they will meet the inflation target this year. The BOE expects a sharp decline in U.K. inflation throughout 2023. It is, however, concerned about the fact that prices are sticky and that the economy and labour market show signs of great resilience.
Source:
https://www.bloomberg.com/news/articles/2023-05-24/boe-governor-says-inflation-is-taking-longer-to-come-down-in-uk#xj4y7vzkg
The U.S. Treasury Secretary Janet Yellen maintained her position that the debt ceiling default headline in early June during her speech at Wall Street Journal forum. Yellen expects to be able to pay the U.S. government's bills only until June 1st without a debt limit increase.
It is hard, she said, to know exactly what day the U.S. government will not have sufficient funds to meet obligations. However, estimations from external sources suggest that it will be a few days after June 1st.
The Treasury secretary said payment prioritisation is not operationally feasible for the government. "We simply have to raise the debt ceiling," she said.
Source:
https://www.reuters.com/markets/us/yellen-maintains-early-june-us-debt-ceiling-deadline-2023-05-24/
______________________________________________________________________
Summary Daily Moves – Winners vs Losers (24 May 2023)
The week finds USDCHF on top of the gainers' list, with a 1.04% change followed by the not-so-far way USDJPY with a 0.90% change.

So far this month, we have these pairs on top, with USDJPY leading with 2.58% and USDCHF following with 1.65%.

Silver loses much this month with a -8.63% price change.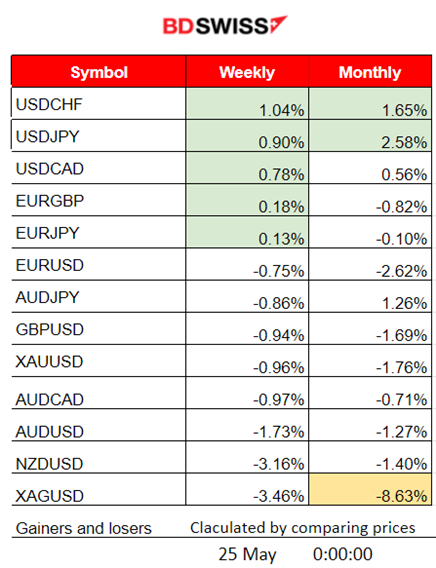 ______________________________________________________________________
News Reports Monitor – Previous Trading Day (24 May 2023)
Server Time / Timezone EEST (UTC 03:00)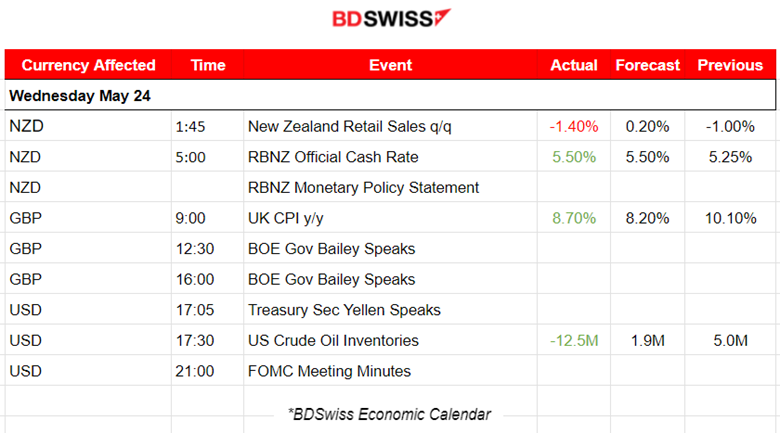 Midnight – Night Session (Asian)
New Zealand Retail Sales figures were weak, showing a more-than-expected reduction.
The New Zealand Reserve Bank increased the Official Cash Rate by 25 basis points as expected at 5:00. That caused high depreciation for the NZD pairs. NZDUSD dropped more than 70 pips. No retracement took place yet.
Morning – Day Session (European)
At 9:00, the U.K. inflation figure was reported at 8.7%, lower than the previous 2-digit figure of 10.10%, but higher than the expected 8.20%. For this reason, the GBP appreciated at the time of the release and it later steadily reversed.
BOE Governor talked later at 12:30 and more volatility took place, with GBP depreciating. Another talk at 16:00 caused further depreciation by saying that the Central Bank eventually will meet its target level.
Secretary of the U.S. Treasury, Yellen, has once more raised concerns regarding payments and debt. No one can be precise on when exactly sufficient cash will run out, she said, adding that financial market distress is likely to take place anyway. No shocks were observed during the speech but there was a steady path for the USD pairs.
U.S. Crude Oil Inventories show a remarkably negative change with a figure of -12.5M versus the previous positive figure of 5M. This is for the week ending May 19th. Crude moved slightly higher at that time. No other major intraday impact was observed.
The FOMC Meeting minutes were reported, showing that policymakers were discussing the possibility of more hikes as they agreed that inflation carries a high risk and, of course, for the essential debt limit increase. No shocks were observed at 21:00.
General Verdict:
RBNZ rate hikes, NZD took a hit, depreciating greatly intraday against other currencies. Steady downward movement with no retracement yet.

U.K. Inflation is lower, with more volatility than normal for GBP pairs. GBP depreciated further during the rest of the trading day.

FOMC Meeting Minutes report at 21:00 had no intraday impact/shock.

DXY moved higher overall yesterday.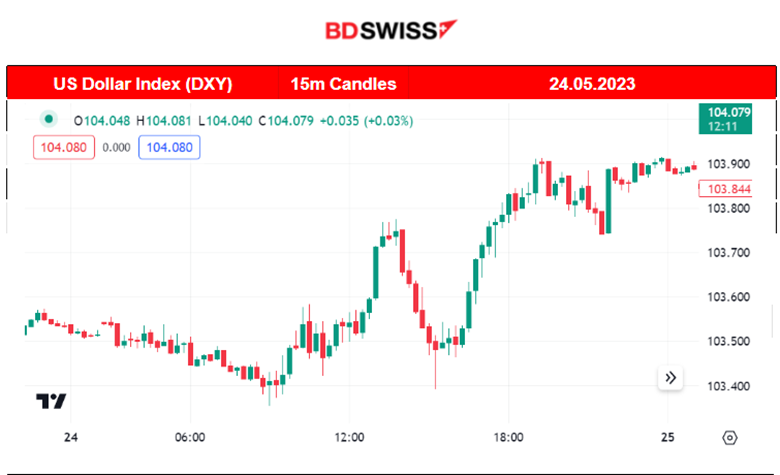 ______________________________________________________________________
FOREX MARKETS MONITOR
NZDUSD (24.05.2023) Chart Summary
Server Time / Timezone EEST (UTC 03:00)
Price Movement
The pair dropped and remained on the downside for the whole trading day. The RBNZD decided to rate hike as expected. The market reacted with a significant NZD depreciation against the USD and other currencies causing the pair to drop near 150 pips overall. Surprisingly, no retracement took place as the pair did find any significant support level.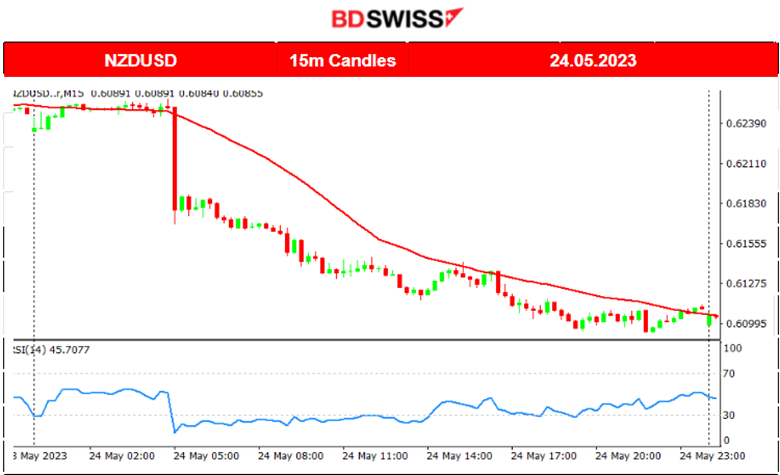 GBPUSD (24.05.2023) Chart Summary
Server Time / Timezone EEST (UTC 03:00)
Price Movement
At the start of the European Session, the U.K. annual inflation figure was reported lower than the previous 2-digit figure but higher than the expected one. The higher-than- expected 8.7% inflation figure was considered a good sign for the currency and that is why the initial reaction was GBP appreciation. Later on, the true expectations kicked in causing the GBP to depreciate against the USD and other currencies, pushing the pair to drop and, thus, to reverse, crossing the 30-period MA and moving further downwards. The pair found support at 1.23650 before retracing back to the mean. It later continued sideways with lower volatility.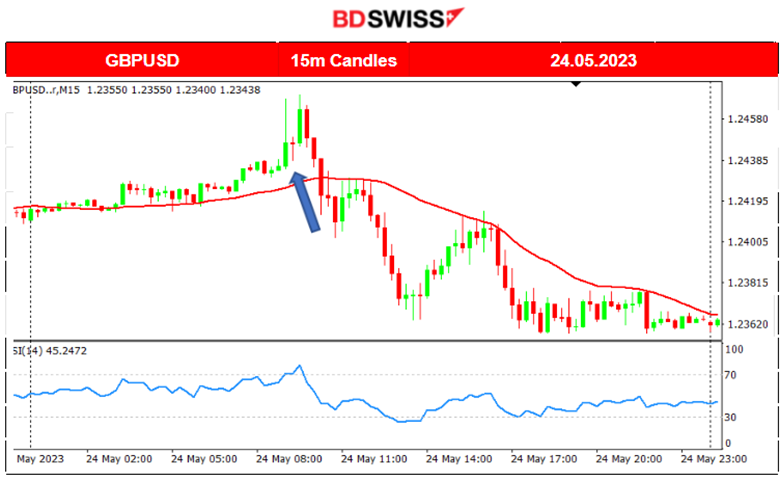 ____________________________________________________________________
EQUITY MARKETS MONITOR
NAS100 (NDX) 4-Day Chart Summary
Server Time / Timezone EEST (UTC 03:00)
Price Movement
As per the RSI, a bearish divergence was formed since Price: Higher Highs, RSI: Lower Highs, thus explaining the downward movement on the technical side of things on the 23rd of May. The index continued to fall with the recent talks regarding an upcoming crisis and debt-deal stalls. The risk-on mood resumed on the 24th, with stocks moving upwards after the FOMC Meeting Minutes report at 21:00. The index reversed and crossed the 30-period MA moving upwards. This is a signal of a rather sideways future movement.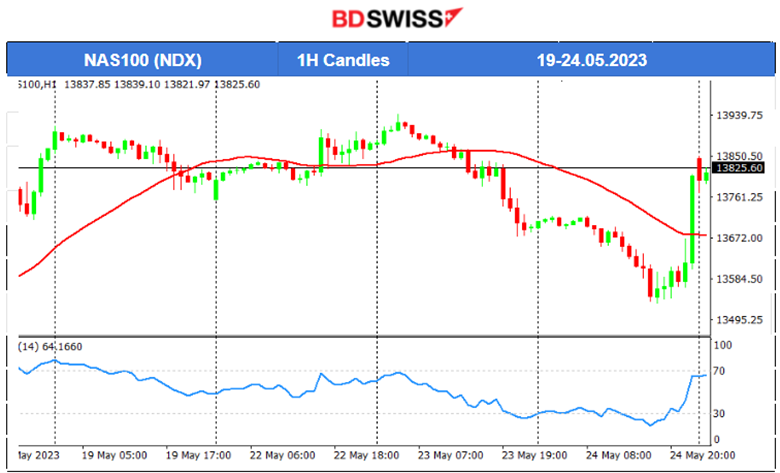 ______________________________________________________________________
COMMODITIES MARKETS MONITOR
USOIL (WTI) 4-Day Chart Summary
Server Time / Timezone EEST (UTC 03:00)
Price Movement
Crude eventually moved higher as expected after passing the resistance level of 73.5 USD/b. However, the upward movement was not high enough and it actually shows quite a resistance for the upside. It retraced back to the mean on the 24th of May, testing again the level 73.5 as support this time. It now settled near 74 USD/b with some signs of bearish divergence as per the lower highs that the RSI is forming.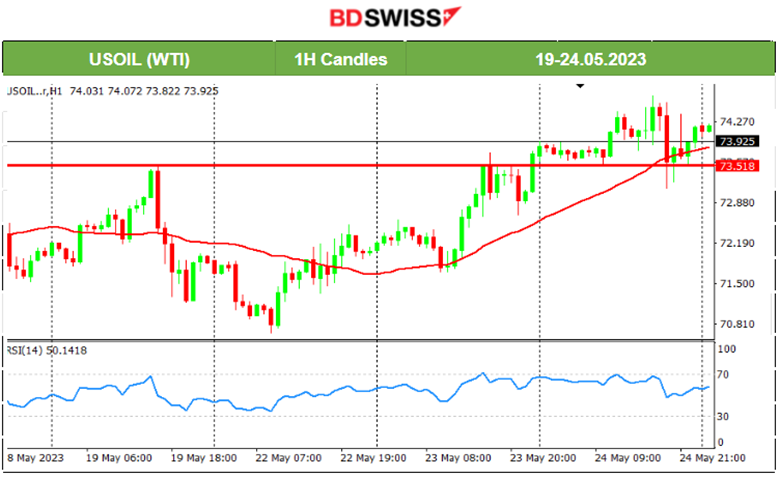 XAUUSD (Gold) 4-Day Chart Summary
Server Time / Timezone EEST (UTC 03:00)
Price Movement
Gold continues the sideways movement with high volatility. Deviations from the mean are near 10-15 USD. It is moving within a channel with a resistance level at 1985 USD/oz and support near 1954-55 USD/oz level.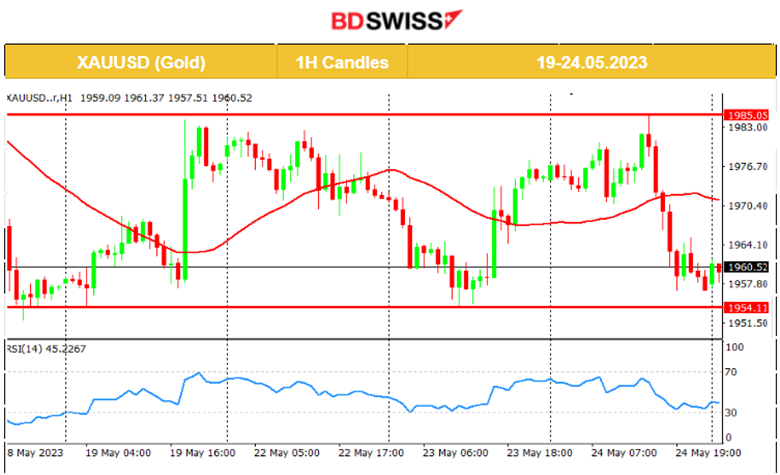 ______________________________________________________________
News Reports Monitor – Today Trading Day (25 May 2023)
Server Time / Timezone EEST (UTC 03:00)

Midnight – Night Session (Asian)
No significant news announcements. No scheduled important releases.
Morning – Day Session (European)
At 15:30, the Preliminary figure for the U.S. Gross Domestic Product will take place along with the U.S. Unemployment Claims report. It is expected that an intraday shock will occur affecting USD pairs at the time of these news releases. It might create good opportunities for retracements.
No other major news is to be released except the pending U.S. Home Sales figure that could have a small impact.
General Verdict:
USD will be affected by the news at 15:30. Retracements are probable after identifying the end of the shock correctly by finding strong support/resistance levels.

Look out for further announcements regarding the debt-deal and its impact on the stock market.
______________________________________________________________
Source: BDSwiss